Remode - Inside The Track 'FACTS' Remix Contest Winner
After listening to hundreds of submissions for the powered by Traxsource; The camp found remix to be the top dog, so we sat down with them to get an indepth look 'Inside The Track' on his winning mix and more with this Exclusive interview.
---
The Interview
1) Congratulations on winning the Traxsource | Lapsus "FACTS" Remix Contest! How does it feel to be the Grand Prize winner? Tell us a little bit about yourself…
We were impressed by the seriousness of the contest and we're happy to have had this opportunity to remix of the Audiowhores, who are among our favourite DJ's. We are very pleased that our release will out on LAPSUS MUSIC. So thanks to Traxsource for this contest, thank you so much.
The Track
2) Tell us more about the your remix. What was the main inspiration behind it and what prompted the musical direction on this?
We got inspired by the vocal, that really impressed us. We heard this track so many times because I could not do without, we felt galvanised by the sound of Audiowhores so we decided to make this remix. We decided to change the voice in a very simple way without distorting it, we used Delay and Reverb presets for the vocal.
NOTE

: Click the images for some large versions
3) Production wise, what is it about the track that makes it work?
The track was remixed with both music production software and analog synthesizers. To go into detail, the bassline adds a lot of the track. We decided to change the sound of the bass to get a good groove combining multiple plug-ins: Sylenth, UK Bass. In addition, we chose an experimental pad for the background track.
4) What is the one machine, program, sound, drum machine, technique that characterizes your sound?
For the production of this track we mainly used Ableton Live as this platform allows us to work better, but we also use Logic Pro for certain sounds, including Ultra Beat and Arturia Spark. For our conception of music we do not use many plug-ins, what matters is the final result.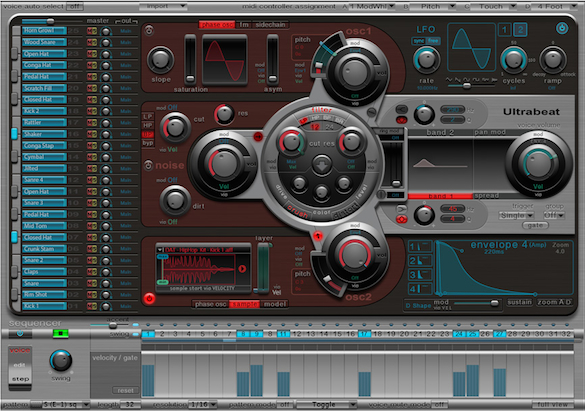 5) What is the one piece of kit that you simply cannot do without?
The main tools for our productions is the Minimoog, but also other Vst's such as Maassive and Absynth 5. We try to create an Alchemy between the sounds trying to develop the perfect sound.
6) Any advice for your fans on how to make it in todays fast paced game?
Take experiences as a journey as the journey will direct you where to go and what to do.
Remode Follow Page & Releases on Traxsource