The All New Traxsource is Here...
Traxsource has been rebuilt from the ground up in HTML 5 to provide the ultimate browsing experience. Stacked with a host of brand new cutting edge functions, Traxsource has become an even better place to discover and download the music you love.
What's new in Traxsource?

Integrated 'Waveform Player' – preview tracks in style.
The all new Player is stacked with innovative new features that will make previewing more convenient then ever before. Key command navigation allows you to quickly skip forward & back between tracks (up and down arrows), fast forward & rewind (right and left arrows) , "Add to Cart" (c or +) and more. Previewing the music you love has never been easier or more intuitive.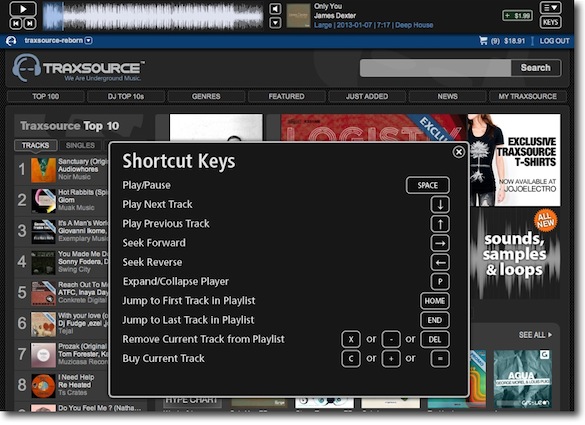 'Artist' and 'Label' Home pages – a new way to browse.
Brand new Artist and Label home pages provide a new way to browse and make following your favorites quick & easy. Just click their name throughout the site to view their latest tracks, releases, charts and more. Clicking the "Follow" button will add them to your "My Traxsource" tab ensuring you'll never miss a single beat. learn more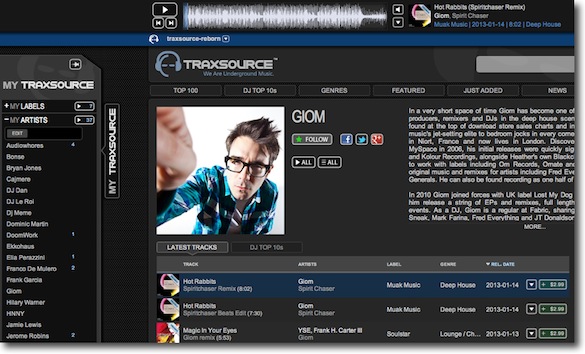 'My Traxsource', everything you love – all in one place.
Never miss another track from one of your favorite Artists or Labels by using My Traxsource to Follow them. Then just click on the My Traxsource tab to check out all their latest tracks with one click. learn more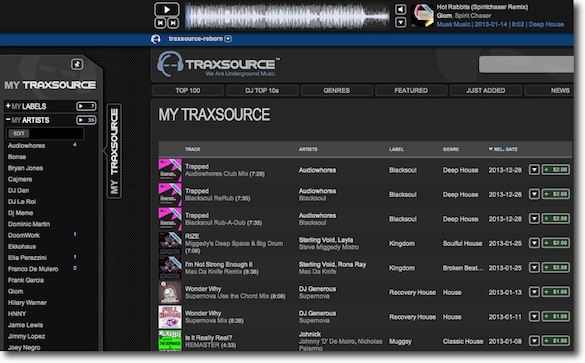 'Now Playing' view – lose yourself in the music.
Expand the player (click P) to get a full screen "Now Playing" view of your editable 'drag & drop' 'playlist'. This view is all encompassing and provides the ultra focused zen view you need to choose the right music for your sets. Everything you need is right there including share, add to cart, add to chart, remove from playlist as well as links to all related items like artist, label and follow options.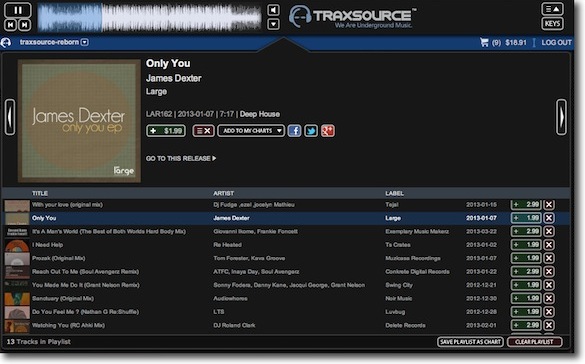 'Create and share your own charts' – instantly.
You can instantly save a playlist as a Chart and share it with your friends with ease. Using the Expanded Playlist View within the player, you can also add tracks to it on the fly while browsing. The Drag & drop functionality within the player and chart edit views make editing simple. learn more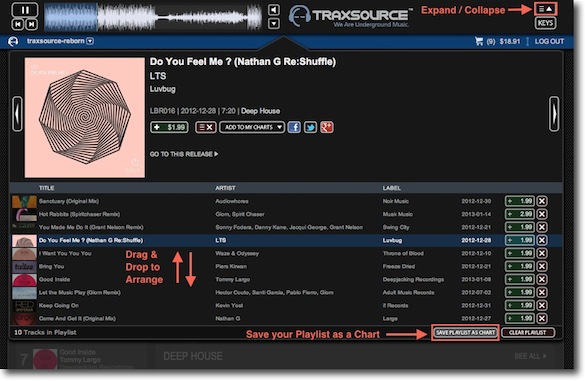 Your chart is instantly available to be shared.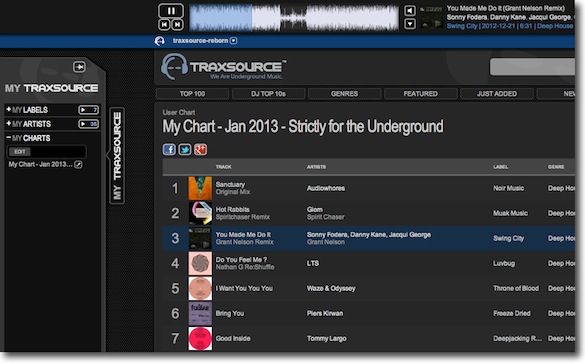 'Quick View' – that little "i" does a lot.
Quick View is an amazing way to quickly view releases from anywhere. Just mouse over the release artwork and click on the " i " icon to reveal the "quick view" pop up.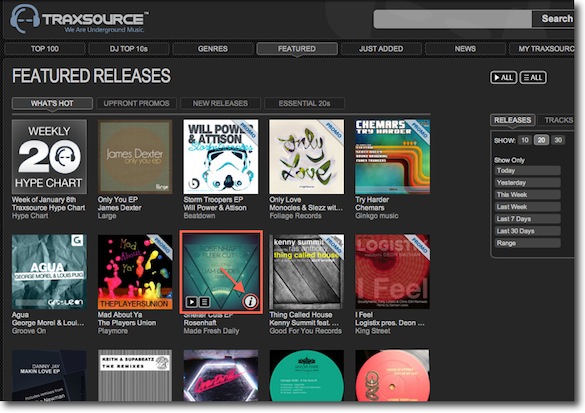 This provides a fully featured "pop up" release page. Additionally you can use the right and left arrow icons to navigate to the next or previous release within the area you are browsing.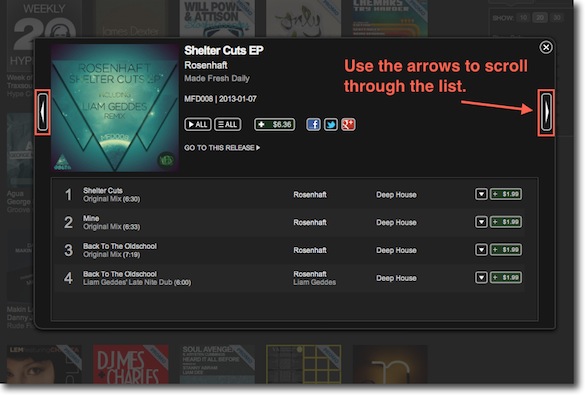 'Filter Panel' – see what you want, how you want it.
The "Filter Panel" contains powerful tools which allow you to control your experience while browsing throughout the site. Use it to control release or tracks view, how many items per page, "show only" filter for date ranges, and "show only" genre filters. Click on "Tracks" view to reveal the "show only" genre filter. The genre filter gives you the flexibility to choose more than one genre at a time allowing for an extremely custom experience.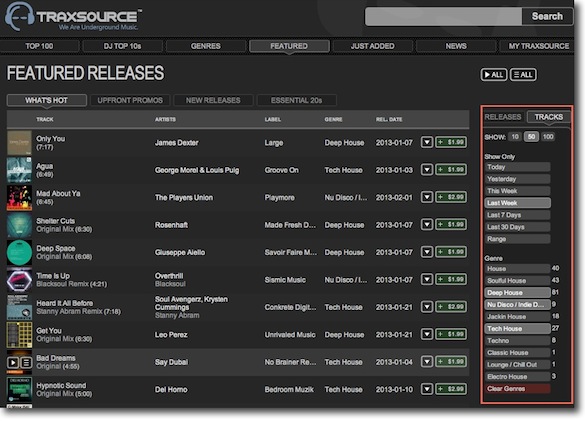 Plus many more new features including:
'Sharing' options are everywhere, Facebook – Twitter – Google Plus.
Redesigned, fully featured 'Genre Home Pages'.
All new 'Search' results are dramatically improved.
'Tab' based navigation throughout the entire site.
'Top 100" pages now provide the entire 100.
And much more