Earnshaw opens up Duffnote Towers
What equipment do you have in your studio? (full studio kit list).
I've downsized/swapped out a few things over the years but this little nest of toys is where I'm at with things at the moment:
Apple IMAC (running Logic and Protools + various software plugins)
Apple G4 (massively ancient, but useful for all the old archive data DATS etc)
SSL X-Desk
SSL X-Patch
Focusrite Sapphire Liquid 56
Presonus Tubepre
Presonus Comp16
TL Audio EQ2
TFPro P38EX
Digitech Studio Quad v2
KRK VXT6 (coupled with sub)
JBL Control 1 (driven by Alesis RA500 amp)
EMU E6400
Akai S3000XL
GEM Promega 3
Clavia Nordrack
Alesis Micron
Korg Prophecy
Roland JX8P (with PG800 programmer)
Alesis SR16
Yamaha SY85
Oberheim Matrix 1000
Roland XV3080
EMU Proteus
Novation Supernova
Samson S-Phone
Tascam DA20 mkII
NOTE: Click the images for larger versions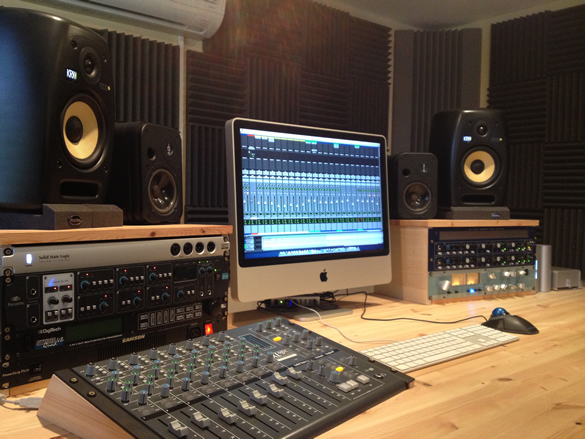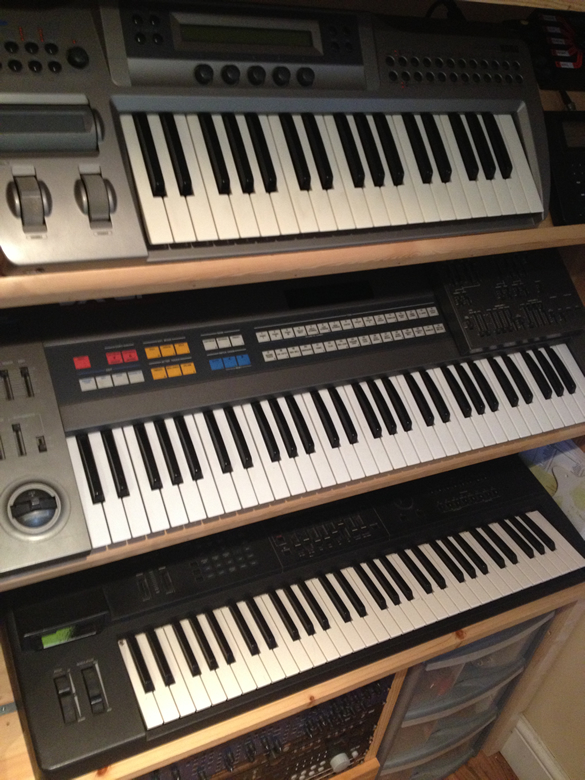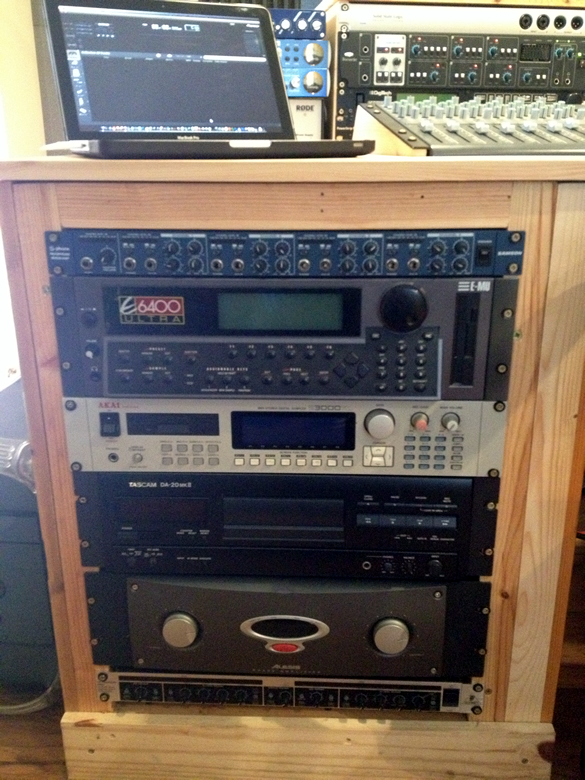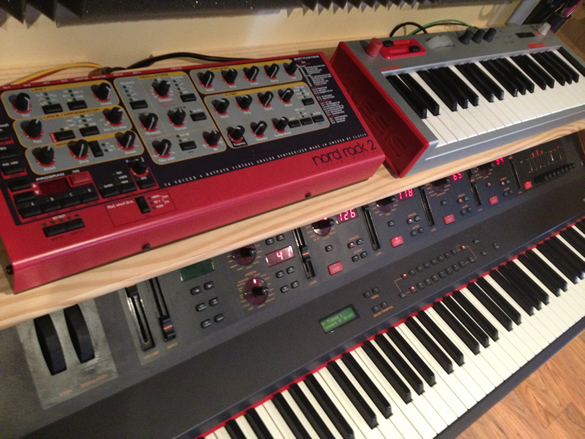 What is your favourite piece of equipment to use in the studio & why?
I've always been an outboard kind of guy, always had a mixer of some description serving up all the audio signals. A year or so ago I installed an SSL X-Desk into my setup and I just love it!! Coupled with the X-Patch, everything, both outboard and software signals all pass through the patch bay & mixer. And of course it is my monitoring section and I sum mix to it too. One of the most common questions I get asked by people is what do I do to get my sound. Taking things out of the box plays a big part, if indeed it started out in the box in the first place. Like most, I do have a bunch of software synths but I still use my drum libraries in my EMU sampler (stretching back to the 90s), my outboard synths and processing. And the little X-Desk binds it all together so nicely, it has real smooth signal path….that SSL sound!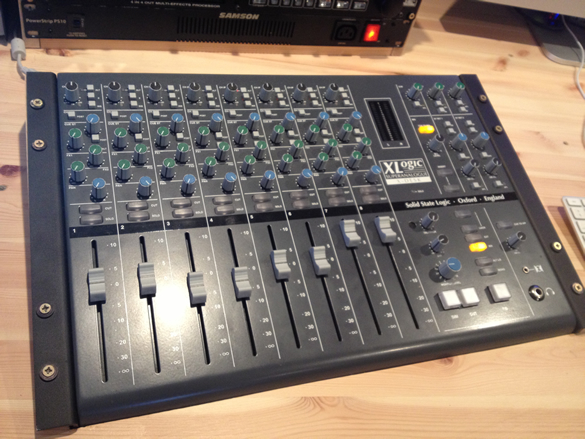 Give us some insight into your production process. How do you typically begin constructing a track?
I don't really have a set process as such. Digging through some old drum samples can inspire me. Or it starts off with some jamming on the piano or some programming with the synths. Then I formulate things around a song idea I've got in my head or pieces of paper, or the melody or lyrics come first and I build around that. I really let the creative flow dictate how things happen. However I do have a more common process when I'm doing a remix. First up, the vocals go into a blank session, and then I'll jam on the piano alongside until I've got a rough idea of the musical groove/transitions. Then a very basic drum pattern to get the pulse going, then build up the layers.
What piece of studio equipment or production process defines the Richard Earnshaw sound?
Apart from the answer to the first question and my love affair with "out of the box" processing, another common thing that people say to me is that my beats are recognisable. Again that comes from the source sounds and the way I process them. I mentioned above that I still use my EMU E6400 sampler as I have a huge sample library on there that I've built up over the last 15 years or so. I do have Stylus RMX which aside from its clever REX system, it also has an extensive library of samples. I guess when I use that, I'll aim for the sounds that marry well with the EMU library. I do know many people who have transferred their old libraries into a more user-friendly software sample, but I like the tactile nature of using the original gear. I still have stuff on floppies and zip disks! I guess if can squeeze another one in, it's my GEM Promega 3. I actually bought it because I really liked the hammer action, but the sounds are really rather good. I use it for piano and Rhodes so it makes an appearance in most of my tracks.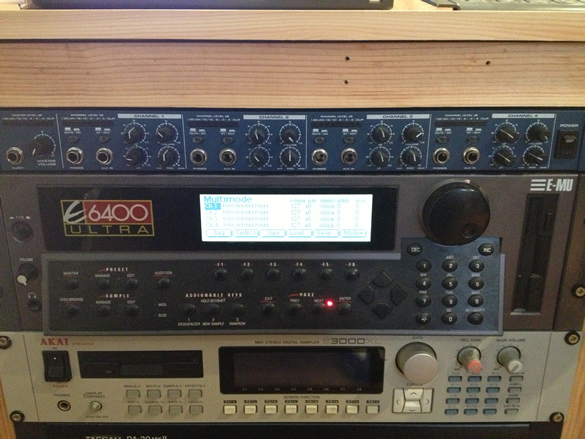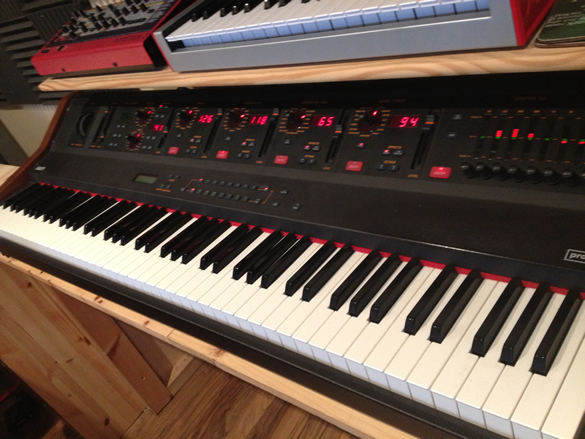 What piece of hardware/software elevated your production to a higher level & how?
Rather boringly, the thing that's improved things for me most significantly of late was when I recently move my whole studio about. I've rewired and reconfigured things a dozen times but the last time, I decided to look at the acoustics and the room characteristics more and totally changed things around to improve it. I've got some decent gear but at the end of the day, your room and the way it's treated dictates how your equipment performs. I was getting a little more fatigue than I liked so rather than spend a million pounds on the best and shiniest monitors in the universe, I looked at the roots of the room first. And very pleased I am with the results. So in some respects, all the equipment in the studio now sounds brand new!



What fresh equipment have you recently added to the lab?
The most recent significant addition is my TFPro P38EX mastering compressor. I was using a TL Audio (C4) before and although it was a nice piece of kit, and as well as a pre amp/compressor I was beginning to use it mostly for mastering than anything else, so I thought it was best to chop it in and get something that was designed specifically to be a mastering unit. Amongst all the usual suspects at much higher prices, the Ted Fletcher units, came with some serious recommendations from some serious people. After trying it out, it was a no brainer!!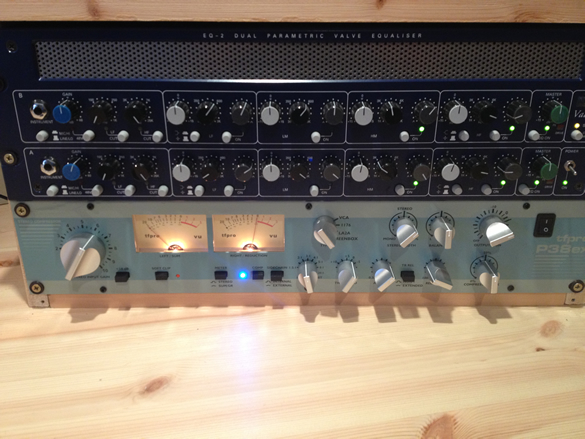 What are your essential studio supplies (food, drink, cigs etc)?
Well like most people I eat, so that's essential full stop, nothing unique there! :) and I don't smoke . For me the most important thing is to take time, step away from things to take a fresh look at what I'm doing. That can either be popping into the house for a coffee or a green tea, or in extreme cases, mounting the trusty green steed and having a blast up and down the South Downs!



What list of artists have influenced your sound?
There is a considerable and varied list of people/bands I would consider to have been an inspiration to me over the years, right from the early stages as a classical pianist/jazz performer right through to my now day to day production/writing. I have been exposed to and listened to a massive amount of music, George Duke, Herbie Hancock, Michael Brecker, Freddie Hubbard, Joey Negro/Sunburst band, Jimpster, Depeche Mode, MAW, Jazz & Groove, Kraftwerk, Vangelis, Marshall Jefferson, Schoenberg, Steve Reich, Future Sound of London, Prodigy, Handel, Chopin, Debussy, George Gershwin, Black Dog, Mike Oldfield….honestly, the list is more or less endless. I'll pretty much give everything a chance, from the complexities of Brian Ferneyhough through to the mainstream prowess of David Guetta. It doesn't mean I have to like it, but I have certainly learnt a lot from being open.
What are your 3 favourite productions?
In chronological order, the first one would be our Fusion Groove Orchestra remixes of Lynden David Hall "Forgive Me" which were release on Cool Tempo in 2000. FGO was my first delve into house production and despite it's short-lived presence, was where it all started for me. My particular favourite version of "Forgive me" was the FGO Rollin' Dub. At 11 minutes long it was an epic musical journey, which, even when I listen to it now sounds current. It was also the first of a number of collaborations with Bobby Wellins who is one of the most well respected saxophonists in the game. It was a real eye opener working with a true master of his craft.
The second would be 'People Are People'. It was my first single as "Richard Earnshaw" and landing it on Soulfuric in 2001/2 was one of those dream "ticks in the boxes". To this day I get asked to play it, some even deem it to be a "classic". Either way, I'm very flattered it has been so well received, definitely a significant moment in my career so far.
Last but my no means least, I'd say that 'In Time' has to be there. Apart from being the title single from my first album, everything about the vibe and message reflects my view and attitude towards many things. And as an overall project, the 'In Time' Album introduced me to a part of the music industry that I had not yet tapped into. Despite 15 years odd of discography as a house music producer, I was pretty much unknown in the soul scene. And being the new kid on the block was just so refreshing. And to cap it off, the album afforded me the opportunity to work with some serious musicians!! Rather than list them, go check it out. ;)
What handy Richard Earnshaw studio tip would you pass onto producers out there?
Take your time. Know when to step away from something, have a break. Try to gain a fresh approach to something or to know when it's not working and ditch it. Coming back to something with a fresh ear, which can result in the change of a kick drum or snare drum can totally transform things…patience is a virtue.
What new production should your fans be on the lookout for at Traxsource soon?
2013 marks the 10th anniversary of Duffnote/One51/Guess so we've got some exciting projects to come. I'm currently in the final stages with the debut Little Big Band album ("Sanctuary") amongst a bunch of new Earnshaw material. There is a new Spiritchaser collection forthcoming and a host of other releases keeping the labels occupied. There is also a special anniversary album ("Decade"), which will be a collection of brand new reworks of our label releases over the last 10 years. Keep your ears to the ground… ;)
'Won't Let Go (The Remixes)' is out now on Duffnote.


'You Got Me Singing' (incl. Spiritchaser Remix) is out now on Guess.