The New Traxsource: A Review by Daniel Toomuch
Miami native Daniel Toomuch aka Danny Dance is a DJ, Producer, Owner of Dance Is A Feeling Records & chief at blog writer at http://danceisafeeling.com/ To say that he loves House Music would be an understatement, in particular jackin, soulful and disco house.
With the launch of the new Traxsource site, Daniel dropped in with an indepth review of all the new site features, functions & more
THE NEW TRAXSOURCE: A REVIEW
"You dance, and you sway, and you close your eyes, and you say, 'How is it that this music can make me feel this way?"
Everyone has a favorite memory: some life-defining thing that happened to her; some spark that brought him back to life. For a lot of people, the memories of love, a stolen first kiss, the birth of someone new and meaningful, all those sorts of things, carry the kind of long-lasting weight that transcends a lifetime and remains until their dying breaths. But for me, the requiem I'll dance to when it's all over, when it's all said and done, starts and ends with House Music. It has transformed my life so severely in such a positive direction that I could not offer enough paeans to it; House Music is more than just the answer, the reason and the cure: House Music is the very question around which dance music essentially revolves. And if there's one pillar of House Music that stands out among the rest, it's Traxsource. At a time when even timeless music retailers like HMV are going down under and services like Spotify post net revenue losses in the millions, Traxsource thrives, all the more so through this clarion monster it just created: The New Traxsource.
House is disco's red fern
To understand Traxsource's place in the culture, and thus the importance of its new website, some valuable context is worth mulling: dance music finds itself in a more polarized time than I can remember in my brief and wondrous life in it, and I continue to be wowed by that. Like Disco did before it, House Music has come of age, having crossed over from the continent that created it (North America), to the continent that curated it (Europe), and now back to its shores of yore for an encore that could either spell its end or metastasize into something historic and enduring. Will House, the original electronic dance music and progenitor to the rest, be overshadowed by its flashier cousins, as electronic music crosses its own boiling point; will EDM implode under the stress of its own heat, and take House Music with it?
In little more than 30 years, House Music has come such a long way since Earl Young created the disco "four to the floor" drum beat…
That would later templatize the House sound, and the genre has bifurcated so many times into so many new flavors and subgenres, that it's hard to grasp how something that started in the heart of gay, black, and Latino communities heart-stricken by despair and prejudice has transformed into a global powerhouse that can be heard poolside at the biggest, poshest casinos and (once again, perhaps as disco's revenge) eclipses rock music as the superstar musical genre of the day. The world has changed dramatically since the days of the Ron Hardy mixtape, and House Music has come to mean a lot of different things to a lot of different people–not only Winter Music Conferences' and Soweto Vodacom Ultimate Festivals' and Chosen Few Picnics' worth of people, but also entire Electric Daisy Carnivals' and Ultra Music Festivals' and Tomorrowlands' and Coachellas' worth of people.
As the Joey Youngmans turned into Wolfgang Gartners (literally), and the Daft Punks turned into Deadmau5es (figuratively), and the vibrancy of 90s-era New York vocal house gave way to the unstoppable force of today's drummy South African soulful house and London's stripped-down, pitched-down deep house, the complex trajectory carved out by House Music has masked an important and simple underlying truth: the underground continues to be the cutting room for House Music's best and most innovative storylines, the space in which Joey Youngmans craft the skill sets that allow them to later make world-beating electro breezers with ease; the space in which funky, Chicago Jackin-influenced albums like 'Homework' mutate into glossier French House chart-toppers like 'Discovery'; the space in which, free from the constraints of 360 deals and whiz-bang industry profit motives, under-discovered soulful singers belt their way through anthems that can paralyze Ibiza; the space in which 'Superman' might mean more to an entire nation in Africa than Clark Kent may mean to us here in the United States. That's precisely the space–the underground–in which Traxsource has been the kiln of raw creativity for years. And so it is that we come full circle: with the launch of its brand new website at an important inflection point in dance music's evolving story, Traxsource has managed to turn the classic riff "Let there be house" into a reality, and that reality just got a whole lot more exciting for creators, DJs, and consumers of House Music alike.
A Superior User Experience
Part of what makes the underground so exciting is the allure of the unknown: it literally teems with talent, most of it undiscovered or niche, and the new Traxsource makes it easier than ever to discover new artists and their music in an interface that's easier on the eyes, more seamless in its function, and very social in its sharing. Looking at the homepage, you can tell Traxsource thought long and hard about the question, "How can we make it easier not just for DJs to navigate the site, but also for consumers to find what they want or what they might like?" The store found the perfect answer: make the music easy to play, at all times.
The Player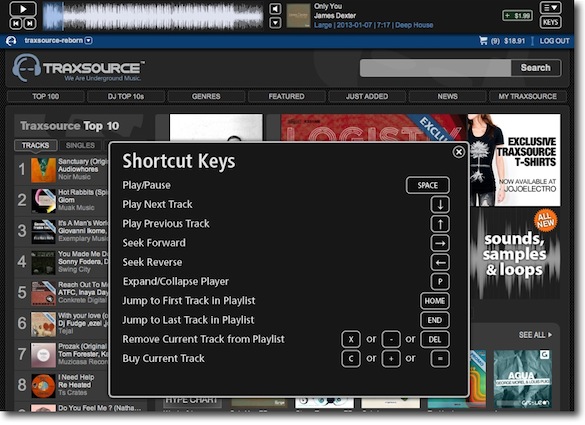 The new Waveform Player sits at the top of the screen now, and continues to play regardless of what else you click through on the site. Want to play a song in a DJ Top 10 list, or an album spotlighted on a Genre landing page ? Hover over the cover art and click the play button and the entire release loads into the music Player. Want to hear the Top 100 best-selling tracks of 2012, or the Top 100 Tracks of the moment ? Head on over to those pages and press "Play All". Want to listen to all 1,188 Nervous Records House songs on the site? Yea, you can do that, too, 100 songs at a time. Not only that, but the Player's keyboard shortcuts also make auditioning all the songs in your playlist a delight. With the touch of a space bar and a few arrows, you can preview songs with incredible speed (it took me just ten minutes to cut through 100 Nervous Records songs, and I walked away with 'Hooked On Your Love', 'Parrty Down', 'Yes He Is', and 'The Feeling' in my cart; granted, as a DJ, I can pick out what I like very quickly, but you get the idea).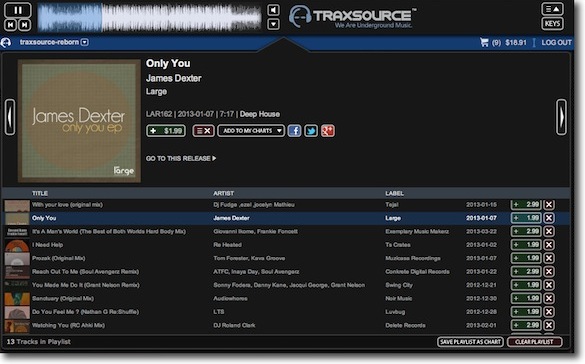 Although the Player looks similar to what you will find on competing sites, I can unequivocally say that Traxsource's Player is superior in every way to the competition's: it is faster, has fewer and more intuitive keyboard shortcuts, and can be expanded and tucked away without so much as a mouse click. This is extremely helpful for the busy DJ loading up on last-minute tracks before a gig, or the consumer who wants to play through their friends' playlists quickly. The focus is completely on the listening experience; the music literally speaks for itself.
The Homepage

Speaking of the music, Traxsource has never been for the faint of heart (then again, neither has House). It's a website that almost dares you to click on all the content: fifty-something fulsome trains waiting to whisk you away to different housey destinations, from the homepage alone. But whereas the old site made this somewhat of a chore, groaning and churning with cumbersome Flash and Java, the new one makes this business of discovering new music—dare I say it—a fun experience. Visually, there's consistency: the main and genre pages focus on what's trending, what's new, and what's in store to discover. But this visual straight-forwardness actually belies a powerful collection of over one million songs, a mind-boggling amount of music made easier than ever to navigate with the cool new tools at your disposal: My Traxsource, My Charts, Quickview, and the helpful Filter Panel.
The Tools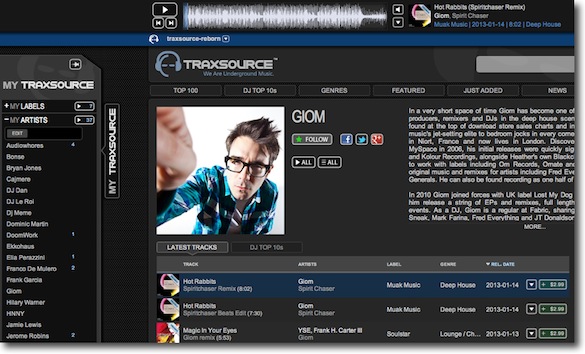 Imagine that you only care about big room Latin Tribal Tech House, maybe with the occasional ATFC and Chocolate Puma thrown in for a dash of soul. You follow Defected, Mjuzieek Digital, and PornoStar Records religiously. If you Follow those artists and labels as favorites on Traxsource, here's what your My Traxsource tab will tell you as of today: you have 19 new songs to listen to–Defected has four new songs released this week, Mjuzieek has seven, and PornoStar has one; Chocolate Puma doesn't have anything new out, but there are seven mixes and remixes of ATFC's 'I Can't Wait' and 'Reach Out To Me' available. A few minutes later, you'll have previewed all 19 of these songs, and Pray For More's In Love With Mjuzieek Remix of 'Smart Guy' will be in your shopping cart–it's more on the Deep side, but clicking 'PornoStar Records' under My Traxsource does reveal Crazibiza's 'Coco Loco', which is just the right flavor of cumbia-infused Latin Tribal Tech for you. You decide you want your friends to hear what Latin Tribal Tech is all about, so you clear the Player's playlist to get a clean slate, preview the "Coco Loco" release using Quick View to see if there are other songs on that release, and save your song to a new My Chart called 'Latin Tribal Tech House'.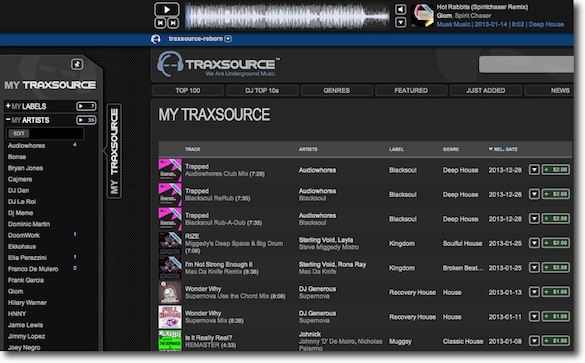 At this point, you remember that Chus + Ceballos release new music every month, so you head over to the My Traxsource page from the top menu, select 'Show Only Last 30 Days' in the Filter Panel, click 'Tech House' to show only songs in that subgenre, and voila!, you spot 'Partenza' from the pridigious Iberian duo: the song is perfect for your new Chart, so you expand the Player and select 'Add to My Charts'. Moments later, you tweet the link to your Chart to your friends. This is the Traxsource we've been waiting for, the Traxsource we deserve, and though it feels almost too good to be true, the Traxsource we finally have. It is brilliant.
The Caveats
Traxsource is not without its flaws. Its search functionality, though improved, still feels a bit like a tortoise. To be fair, with one million songs to sift through, I can hardly blame it for taking three whole seconds to load results. Second, on the mobile front, none of the House Music stores have yet figured out mobile browsing, and Traxsource is no exception. It does have an iPhone app, but it's neither universal nor frictionless to use, and hasn't been updated since its release months ago; encouragingly, though, there are similarities in design between the app and the new website, so a universal shopping and listening experience may yet come along. I'm hopeful. What I do know is that if Traxsource manages to take the dazzling HTML 5 that undergirds its amazing new website and adapt it to mobile browsing, it will be the House Music store to beat, the new gold standard for underground House Music–or dance music, period. As it is, Traxsource is well-positioned to become just that, with a website that does so many things right in so many important ways that I feel excited again about finding and buying new music.
Conclusion
Nothing short of a revolution for me personally in how I devour underground dance music to re-share with others, the new Traxsource is an engine that anyone with even a passing interest in the longevity and authenticity of dance music ought to use to drive their tastes forward. From House Dancers looking for new tunes to practice with, to DJs looking for hidden gems to differentiate their sets with, to people looking for a braver, newer, deeper world of music they can never find on the radio or any streaming service, to couples who can't afford to hit the clubs like they used to but left their souls on the dance floor and want to reclaim them in their own living rooms–indeed, for anyone for whom 'dance is a feeling' means something–the new Traxsource will be a personal revolution too.
It's all enough to make Chuck Roberts, The Jungle Brothers, Aly Us, Pal Joey, and Robert Owens smile. Maybe even dance.
Daniel Toomuch
Follow Danny Dance on Traxsource