Giom Music Studio Tour in London - Traxsource In the Studio
What equipment do you have in your studio? (full studio kit list).
Apple iMac i7 27'
Native Instruments Komplete 6 Audio Interface
M-Audio Axiom 49 master keyboard
Native Instruments Maschine
Akai APC40
Adam A3X monitors
Mackie Big Knob
Korg Poly 800
Korg N-364
Roland MT-32
Roland JX3P
Yamaha TX7
Yamaha TX81Z
Novation BassStation rack
Akai S900, Lexicon MPX100
Alesis 3630, Mackie CR1604 desk
Simmons SDS800 drum unit
Roland

SPD

-SX
Vestax

PDT

-4000 turntable
Native Instruments Traktor S2
iPad Mini
NOTE: Click the images for large versions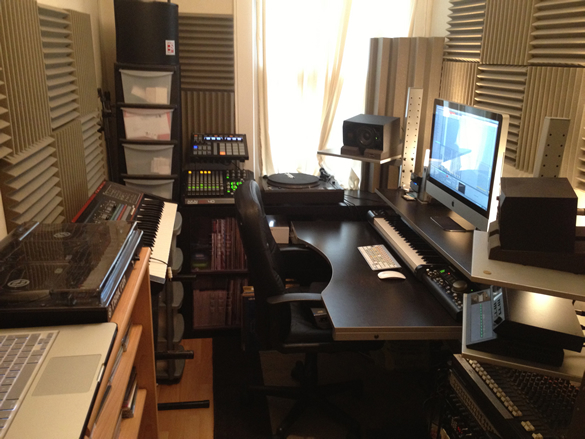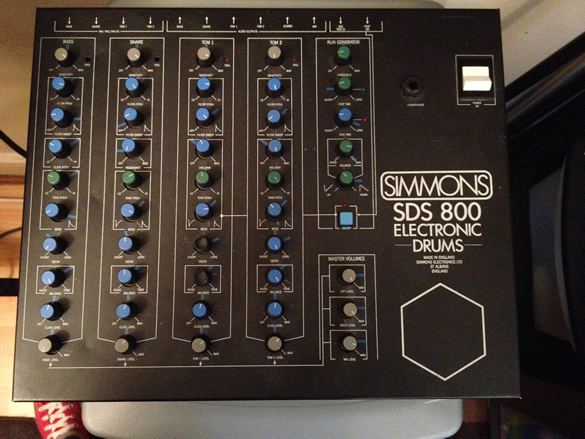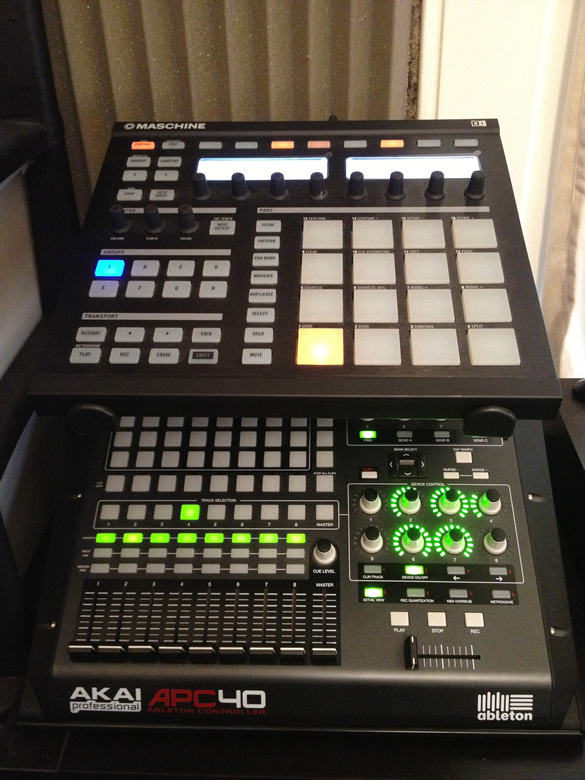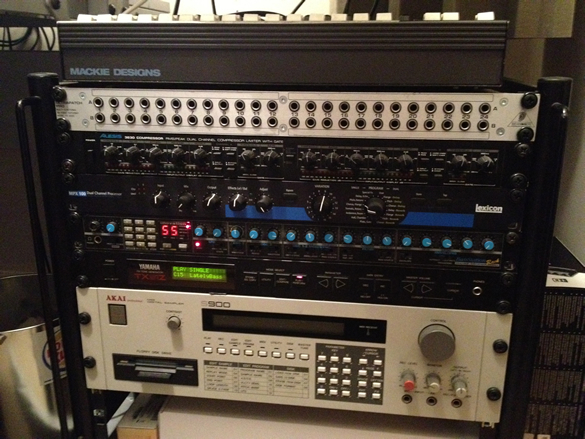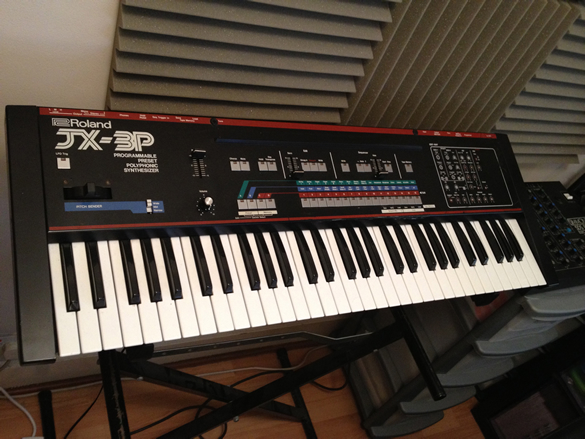 What is your favourite piece of equipment to use in the studio & why?
Ableton Live Suite 9, no question about it. It is by far the most important musical instrument in the studio, and everything can be created, recorded, played and mixed and mastered with it. I received the Beta version of Live 9 in January, and I must say the new features are pretty awesome, especially the audio-to-midi function. You can sing an idea into your phone for instance, import that into Live and within seconds have that melody turned into a proper bass line. Or import any old audio chords from your sample library and then being able to turn them to midi, and change its notes in order to fit your track. And they also improved their Eq and compressor. I absolutely love it.
Give us some insight into your production process. How do you typically begin constructing a track?
I have a template saved in Ableton which loads on each startup, containing all of my favourite settings, devices, effects and shortcuts. It took me a few years to get right (and still changes a bit every now and then) but it enables me to record whatever idea I have in my head in less than 5min. I'll have basic drums, bass, chords and /or samples all in place and all sorted out in less than 5min. Obviously, I'm not talking about a finished piece of music here, I'm talking about the creative process, about the IDEA! I don't want to waste even 2 minutes looking for a kick drum sound when I have this bass line in my head and I want to hear if it's eventually going to work in a track or not…
What piece of studio equipment or production process defines the GIOM sound?
A good clap sound :) I don't think I've ever made a track without using a clap sound. I don't know why, but I guess I like the sound of a kick and a good clap together… Apart from that, I do lots of layering. For example, my drum buss will rarely contain less than 6 or 7 different tracks. For a good, simple sounding drum beat I'll need a drum midi device playing the MAIN drum sounds you'll hear (I personally use Ableton's Drum Rack, – there's often snare, clap(s), and a few hats in there), 1 or 2 cut-up drum loops from either a sample library or nicked from records (Eq'd and fitting together nicely), as many percussion tracks as I need (like a tambourine, a shaker, some congas etc…), and often some extra stuff I'll do with Maschine for instance… Eventually, everything gets re-compressed and Eq'd together on the Drum bus too, with either the Cytomic Glue compressor (now part of Live 9) or PSP's vintage warmer.
What piece of hardware/software elevated your production to a higher level & how?
Everything changed when I bought my iMac. I used to have a PC with pretty much every single cracked software and plugin in the world but after spending so much money on this Imac and having no cracks at all it made me focus a bit more, using only what I had. That and Ableton too, of course :)
What fresh equipment have you recently added to the lab?
I recently bought a Roland MT-32 synth for £40 on eBay. I watched this classic 80s French film called "the Big Blue" (by Luc Besson) on TV the other day and suddenly realised how much I already knew (and liked) its soundtrack, but totally forgot about it… So anyway I searched what gear Eric Serra (the composer) used to create it and read that he mainly used 2 synths, one being the DX7, the other one being the Roland MT-32. Quick search on Ebay and 2 days later voila! I've now sampled the 3 or 4 sounds I liked and the rest is not great I must say, but for this price I think it's quite OK.
What are your essential studio supplies (food, drink, cigs etc)?
Good coffee and plenty of water for me.
What list of artists have influenced your sound?
I've always listened to lots of different music, but in no particular order I'd say that Etienne De Crecy (back in the Super Discount and Tempovision days), the
Lawnchair Generals
, Frank Zappa, Michael Jackson, Jaco Pastorius,
TOTO
, Michael Mcdonald,
Daft Punk
,
Derrick Carter
, Sneak,
Mark Farina
, and more recently the likes of
Maceo Plex
and
Kolombo
have all really influenced my sound at one point or another.
What are your 3 favourite productions?
The 3 tunes that I've produced myself and quite like are my remix of Hector Couto's 'Let the Music Play': (good clap on that one)
my own track 'Things U Do' on Lost My Dog Records,
and a new song I've recently written called "Love Ain't Real" which features the vocal talent of ex Manfred Mann's singer Gavin Conder, and sounds closer to Hall & Oates than house music, but I'm really proud of this one! Maybe you'll be able to hear it sometimes, when I have the guts to put it on my Soundcloud page.
What handy Giom studio tip would you pass onto producers out there?
Finish your tracks. Anybody can start a killer track, but the real challenge is to get it finished. Otherwise it's nothing else than a demo that nobody has heard apart from you. But don't worry, for the info, every producer I've ever spoken to, doubt about their own tracks as much as you do so you're not on your own here… And also, please, please stop worrying about this mastering madness. "What about the mastering?", "do you do your own mastering?". My advice is, just leave this to a professional. Just focus on making good music and delivering a good final mixdown and leave that last, very important process to someone with the right equipment and ears to take your tracks to a different level! I certainly would never do my own mastering. Of course if you want to do it yourself go ahead, but do not let this put you off sending your own music to labels.
What new production should your fans be on the lookout for at Traxsource soon?
There'll be plenty of music coming from me this year, including a brand new track called "Exhausted" coming out really soon on Danny Stott's new label Inner City Records, a collaboration with Joey Negro, and remixes for the likes of Seamless Recordings, Savoir Faire Music, Loco Records, Loulou Records, Greenskeepers Music, Playperview and also Toolroom, for later this year. And obviously, a couple of projects on Lost My Dog too!