Sasse Moodmusic Records Studio Feature - Traxsource In The Studio
Sasse, a prolific Finnish producer and remixer based out of Berlin, has released hundreds of records on Traxsource over the last decade. In this fresh studio feature, he gives us a tour of the Moodmusic Records studio behind some of his leading work.
What equipment do you have in your studio? (full studio kit list).
Studio Equipment
MONITORING
Genelec 1032 (main)
Focal 6B Solo (nearfield)
DK-Audio MSD100 analyzer
MIXING
Pro Tools 9
Ableton Live 9
Logic Audio 9
Audient Sumo summing mixer
Yamaha PM-1000 Discrete Mixer

RME

Ray-Dat 64 I/O soundcard
Apogee DA-16X DA converter
Focusrite OctoPre MkII Dynamic converter
Kronauer Genio X1

ADA

converter
SekD

ADA

converter
Tonelux MP5A micpre in API500 size frame
PROCESSING
UAD

-Quad

DSP

-card
Pultec EQP2-A passive EQ
Siemens W295 vintage stereo EQ
Filtek

BFE

Mk3 vintage stereo EQ

SPL

Machine Head tape emulator
Studer 169 6 channel line-amp
Ibanez UE-405 vintage Multi-FX
Schulte Kompakt Phasing A phaser
SYNTHESIZERS
Elka Synthex
Roland Jupiter 4
Roland JX8P
Roland MKS7
Sequential Circuits Six-Trak
Korg Trident MK1
Yamaha CS15-D
Yamaha DX-100
Waldorf MicroWave
Oberheim

SEM

Solina String Ensemble
Vermona E-Piano
Vermona Sandy Organ
Philcordia Organ
Doepfer Modular Synthesis
Technosaurus Microcon II
Cyclonix TT-303 clone
E-Mu

EMAX

1 sampler
Roland S-700 sample player x2
DRUMS
E-Mu SP-12 Turbo
Jomox XBase09
Roland TR-707
Elektron Machinedrum

MAM

ADX

-1 analog drums
Pictures
NOTE: Click the images for large versions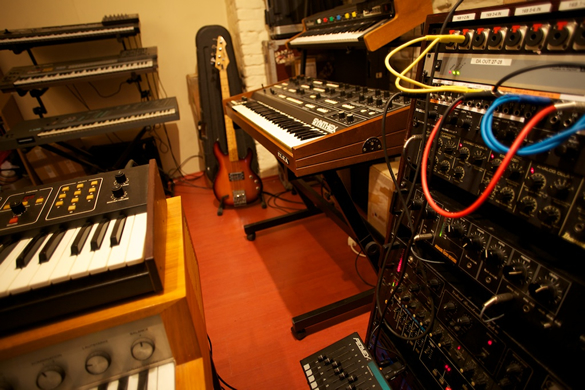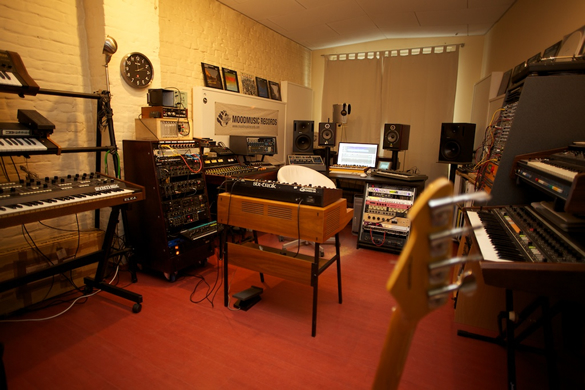 Sasse Interview
What is your favorite piece of equipment to use in the studio & why?
I have a few favourites right now – the first one is my Oberheim SEM analog synth module, which just is such a beast. You can do any kind of sounds with it – be it then bass, leads or just nice percussion. It's one of those analog synths, which makes your everyday studio work so much nicer. And my 2nd love is my E-MU SP-12 Drum Machine, which is a classic, and everybody probably knows. I usually like to mix samples from the computer and some analog drums, but the kicks and toms are usually always coming from the SP-12. It just raw as house music should be.
Give us some insight into your production process. How do you typically begin constructing a track?
Well, there's so many ways… I might just jam on my modular system and have some crazy sequences going on which I record and cut up to a certain rough arrangement of say 16 or 32 bars. Then I start adding bass and keys, keeping a basic drum groove from a drum machine going on for the rhythm. After I have a feel for the main parts I usually reprogram my beats to fit the vibe, or let's say if I was using any loops in the beginning, I will reprogram them on the SP-12 or on my vintage samplers. I think it makes more sense than using these pre-programmed beats, which everyone uses. And many times I just fire up my Mbase or Machinedrum and keep banging the beats till they fit the groove and the song. Arrangement comes very naturally, sometimes a live jam takes control of the arrangement, sometimes you have to copy-paste your building blocks, or you have a vocal and then you work on a song basis. But I have to say a live jam is my preferred way of working. I lay all my channels on the desk and my summing device and then I just put Ableton into record mode and jam for 20 minutes recording everything, then it's just time to cut up things and keep everything sorted so the arrangement works.
What piece of studio equipment or production process defines the Sasse sound?
Well first of all my years as a DJ has formed my way or working; towards the dance floor, but keeping an eye on the mind and soul as well. My sound has changed over the years, but I think it's just an evolving process of learning how to do things right. You usually learn from mistakes right?
But what really defines my sound is the use of my analog mixer and summing combo and the recording and mix process in general – First of all I try to capture the sound in it's natural glory, be it then a real instrument, a voice or a synth sound. I record everything into Pro Tools or Ableton and while recording I try to get a feel to the track and how the sounds should be sitting in the end mix as well. I do use samples and plug-ins as well, but most of those will be processed outside the computer with line-amps, through my vintage Yamaha mixer or through various effects or filters on my modular system. But that's all technical stuff, and at the end of the day if you have a lovely song, which moves people emotionally, that's the most important thing. I just try to put those small elements into a context, which works for me.
What piece of hardware/software elevated your production to a higher level & how?
I think when I got my Focal monitors it was a turning point. I used to mix on my big Genelecs and Yamaha NS-10s, and had some reference hifi-speakers and Auratones as well as 3rd pair of monitors. Then I got the Focals and after 2 weeks the NS-10s and the Auratones were on Ebay. I think the combo Genelec 1032 and Focal 6B is perfect. I used mine as near field and I never get tired of working long hours with them. Somehow it was a lucky co-incidence as my studio partner Ewan Pearson has the 3-way Focal 6B Twins in his room and I was saving for those. Well the UK distributor for Focal had the 6B Solos on sale and I grabbed them immediately. And I never regretted this move; they are perfect for my room.
What fresh equipment have you recently added to the lab?
I have to say I really like a few new modules in my modular Euro-rack. First up the Kilpatrick Audio K4815 Pattern Generator, which is a great sequencer for analog synths with CV/Gate. You can generate some pretty dope baselines with it, but basically it works for everything – even modulating filter moves and envelopes. And 2nd thing, which is dope, is the Doepfer A-127 module, which is a triple resonating filter for immediate Wild Pitch style chord filtering. Such a killer tool for anything which needs movement and dirtiness.
What are your essential studio supplies (food, drink, cigs etc)?
I don't really eat in the studio, and for my long sessions I rather rely on coffee and water. I do enjoy long lunches; there are a lot of good joints around my studio in Berlin. And a few beers every now and then in the evening works well.
What list of artists have influenced your sound?
Herbie Hancock, Bomb The Bass, Maurizio, Carl Craig, Pat Metheny, 2 Live Crew, George Duke, Shut Up And Dance, Giorgio Moroder, Masters At Work, Bee Gees, Claude Young and so many more… it would be an endless list
What are your 3 favourite productions?
Hehe, I hate these questions. It would be so much easier to speak about other artist's music than my own. So these 3 are pretty important to me.
1. Sasse – Took My Love (ft. Big Bully) (Sasse's Detroit Mix) My Favorite Robot 2012

2. Sasse – Break Up – Moodmusic 2008

3. Freestyle Man – Love Story – Sähkö/PUU 1997

What handy Sasse studio tip would you pass onto producers out there?
Not sure I can give any advice to anybody hehe, do what you feel really… I learned things by doing, so I would just try to get as much work done and remember to keep your monitors in a nicely treated room. If your listening position is crap, you can't finish any work. It's the most important thing really – speakers, your room and your ears. Keep them safe.
What new production should your fans be on the lookout for at Traxsource soon?
I have a Sasse EP out on Pooled Music on May 15th and I just finished a new EP for My Favourite Robot with vocals from Ilija Rudman and a deeper one for Stranjjur from NYC as well. I also finished a remix for Cure-Shot on Deep House Proposal which is getting really nice reactions at the moment, and another one for the Deux Tigres bomb 'Dragonfly' which is out now (April 15) as part of a remix pack on Moodmusic. And please check my collaboration 'The Day Before Tomorrow' with Dubai's finest, DJ Raxon on his label Audio Tonic label.
Cure-Shot (Sasse Remix) on Deep House Proposal

Sasse & DJ Raxon 'The Day Before Tomorrow'

I also co-mixed with Ewan Pearson one track on the brand new Footprintz album called 'The Favorite Game' on Visionquest. It's a chunky peace of disco influenced loveliness with some great vocals. Ewan did such a great job on the whole album, but it was a great experience to work on this particular song, which is my fave from the album.
Sasse Featured Release
Footprintz 'The Favorite Game'




'Dragonfly Remixes (incl. Sasse Mixes)' is out now on Moodmusic

Sasse Follow Pages on Traxsource