Sandy Rivera, Kings of Tomorrow Studio Feature - Traxsource In The Studio
Sandy Rivera, one of the giants of the house music scene for over 20 years and going strong, joins us for this exclusive Traxsource In the Studio feature. With his new Defected Records song, Fall For You currently the #1 best-selling song on Traxsource, it seems the world has fallen for Sandy and the mellifluous singer April. Find out how the master gets to work on songs as timeless as Finally and Fall For You.
Sandy: "Before we start: I have moved my studio about 10 times in my career. I just moved in the past two years, so I have managed to make music in various rooms. I prefer working in smaller spaces and keeping most of the kit near me. I just feel more comfortable that way. I hope this gives you some insight on how I do things and helps you in someway or form"
What equipment do you have in your studio? (full studio kit list).
Studio Equipment
COMPUTER:
Power Mac 2 × 2.8 GHz Quad – Core Intel Xeon / 10.5.8
Two Monitors
MONITORS:
Genelec 1032A with Subwoofer (Main)
Genelec 1029A (Reference)
MICS:
Sontronics Orpheus (Main)
Neuman U-87 ai (Main2)
Cad E-200 (Still have it)
MIXING: "I got tired of desks and decided to build my own rack of stuff."
Neve 8816 Summing (Everything passes through this)
Neve 8803 Dual EQ (This is nice)
Neve 8801 Channel Strip (All my vocals)
S Stereo Mix Bus Compressor (I use a lot)
Super Stereo Compressor (I use a lot)
Avalon 737sp (Not as much)
500 Box
550B EQ (Four) (I use a lot)
525 Compressor (Four) (Good sound)
560 EQ (Two) (This EQ is better than all the EQ's on my list)
UA 2-1176 (Dual) (Great for everything)
Tube Tech PE 1C (Two) (good for low end and tops)
PROCESSING:
Pro Tools 192 HD3
Pro Tools 192 Digital
Pro Tools 9 (Main)
Logic Pro 9
Ableton Live 9 (Main)
VST: Since, I first run everything analog. I would only use plugins to fix bits if things are not sitting well in the mix. Keep in mind if you do or do not have good kit, it is wise to minus out EQ's and don't add. Also check your levels are not running too hot into to a plugin.
Focusrite Liquid
Battery 3 (Live drums)
BFD2 (Live drums) you can hear this on 7 days with Rae on my Soundcloud

HERE

Geist (Really good for programming on the road)
Recycle (Ableton chops things up the same way)
Ivory (Nice piano sounds)
Machfive2 (This does not work well with Pro Tools 9)
Stylus

RMX

(I don't use it)
Waves Gold

API

Bundle (The 560 with the 2500 is great for mix bus channel also gives a sound close to the

NEVE

8801)

SSL

Bundle (This is good also for a mix bus channel)
Decapitator (Great for distortion)
Elephant (Very nice for a mix bus compressor)
Izotope 5 (An all around great mastering tool. It's even better if you know what you are doing)
Melodyne (Nice for changing vocals and spreading out chords. The timing is a dream on vocals that are slightly out of time)
Fabfilter Pro – Q (This is a nice EQ highly recommended)
Soundtoys – Filterfreak 1 & 2 (These are nice)
SoundToys – EchoBoy (Nice also)
SYNTHESIZERS: I don't use the Triton or JV 1080 as much anymore. I use the others all the time.
Moog Voyager
Nord Lead 2
Poly Evolver
Korg M3
Novation Supernova 2
Virus T1 & T2
Korg Triton (Oldie)
Roland JV 1080 (Oldie)
OUT EFX: This is where the Pro Tools Digital comes in handy. They all appear in my plugins and I can patch any sound in.
Eventide Harmonizer ( A beast and it has really good compression and it's dual so I can use it as two mix busses also)
TC Fireworx ( I run a lot of sounds into it after or before I print to audio)
TC DTwo ( I am not crazy about it, but the sound is good)

PCM

91 Reverb (Love it)
Electrix Filter Factory (Such a nice filter)
SAMPLERS:
Elektron Octatrack (Sampler) (Main, but recent add in)
Emu 4XT ( I still have sounds in it that I like this, so I use it at times)
DRUMS:
Elektron Machinedrum

SPS

-

IUW

+ (Main also, A recent add in)
MIDI:
HARD DRIVES:
Pictures
NOTE: Click the images for large versions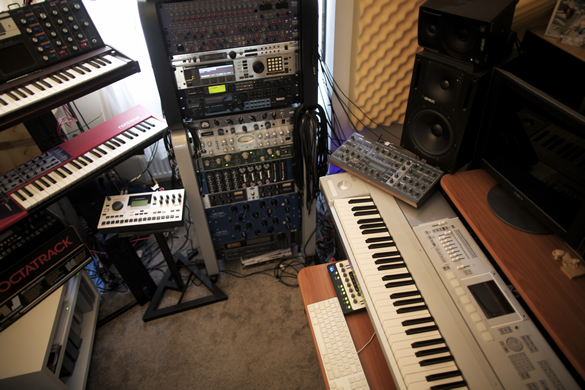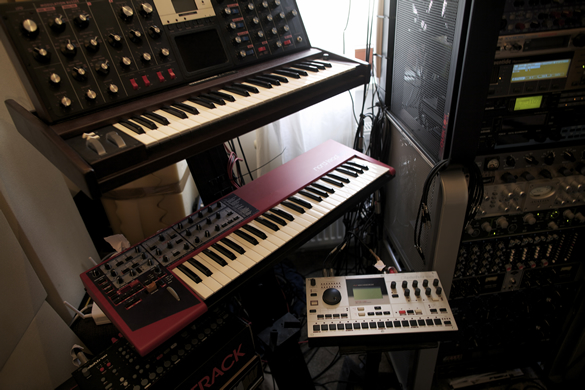 Sandy Rivera Interview
What is your favorite piece of equipment to use in the studio & why?
My computer. Can't do anything with out that. Even if you don't have any outboard kit, you will manage making an electronic tune with a computer in general. There are so many sample packs running around from people who have good analog kit and synths, so you're are buying straight sounds I hope? Also there are so many nice plugins that emulate analog very well these days like the
UAD
systems. All running from a laptop.
Give us some insight into your production process. How do you typically begin constructing a track?
My Korg M3 and Virus are in front of me all the time and great for just getting quick ideas down since they both are entirely different from each other. The Virus gives me all the moody atmospheric stuff and the M3 is for getting clean melodies down. Sometimes I just play with a piano sound live, just to get into melodies. If I hear something like "Fall For You" (Since it is most recent), I will record the midi of it with a click tone. If I can listen to it with out getting bored and quickly come up with songs, I move a long and make a basic beat and add a bass line. Not much you can do with a melody like that unless you get some vocals, so the track will stay very rough and stay in midi until a vocalist comes in. After I have the song, I will start beefing things up for a final mix. At some point any and all sounds will pass via my made up mixer.
For tunes like "Baby I want You" (Recent also) I had the track mixed before Rae even came in because it was a lot easier to get the tune going with no vocals yet. I would start with a beat made in Pro Tools and I keep Ableton Live running with it just in case I want to sample some more beats and ugly stuff, then I would get a bass line groove from either the M3 or Virus as a trial run. When I have something good I will then turn to the Moog and see if I can get a better sound for the bass groove. I always check the Moog 1st. If nothing sits well, then I might keep the sound from the other 2. This is the process I do this with all the sounds, I also check the Nord lead 2, but other than that, all ideas start with the M3 & Virus. I keep all the parts in midi till I have some arrangement. When I do decide to print a groove to audio, I will patch the sound via API 550B EQ with the UAD 2-1176 and while it's printing to audio I will go crazy with all the filters and delays then chop it up later. Or just take the loop I wanted to start with.
What piece of studio equipment or production process defines the Sandy Rivera sound?
What really defines my sound? It's how I like to make music or how any person does with their own moment creating it. When you listen to the chillout tracks I did with Rae on my
soundcloud
, most who have heard them can't believe we made those. I guess how I approach making music with the experience I have had in general. Hearing old funky, soulful tunes when I was growing up. Seeing and being apart of the late 70's, 80's, 90's defines my sound.
When I read this back it's just clearer to me that it's a true analog sound and good musicians. Everything I ever loved in music was made with great analog gear, singers, musicians and mixing engineers.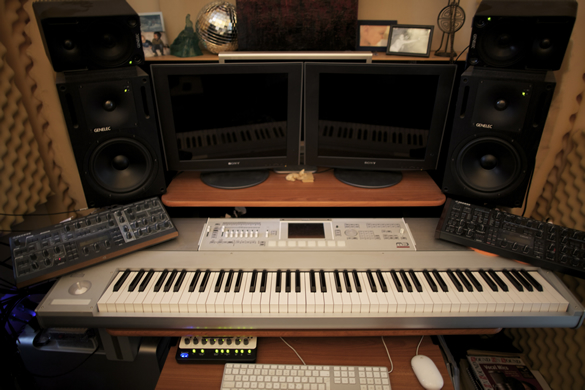 What piece of hardware/software elevated your production to a higher level & how?
Back in the day I was making tracks on an Alesis MMT8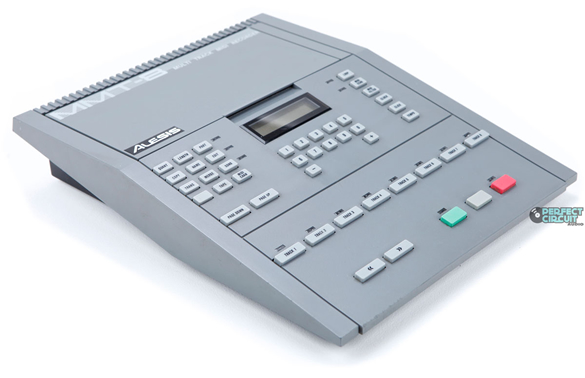 in the bronx with a Yamaha SY77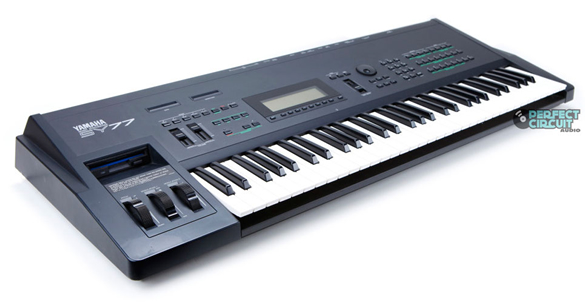 and a Casio FZ1 Sampler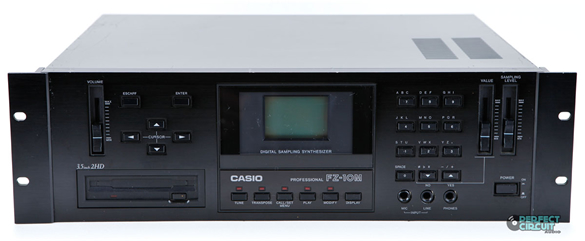 with a 16 track mixer (I can't remember the name of) and a DAT machine. I made the first few tunes on Blackwiz Records in 1993 with that kit. So by 1995, I was really happy when I got an Atari 500 with Dr T's, Juno 106, TR 909 and an Adat machine. I finally really had sounds and could record vocals as you can see in this picture from 1996 I originally posted on facebbok and then Traxsource thought it would be a good idea to do this feature.
MY STUDIO IN 1996
What fresh equipment have you recently added to the lab?
Most recent is the Elektron Machinedrum and Octatrack. I wanted to get back into the feel of a drum machine again and these two are like the TR 909 and SP 12 at this day and age. They are great. I can make a fast drum track in minutes. When you see the list of drum machines I have had, I can tell you, none of them do what these machines can do once you start tweaking the sounds or even just the sound you get in general. Digital meets analog in the best way with Elektron. They will become my main center pieces for sampling and making drums.
What are your essential studio supplies (food, drink, cigs etc)?
I don't really smoke. I drink water till I get very hungry and then I eat my kids food.
What list of artists have influenced your sound?
I will just go straight into House. Labels like Warp,
Strictly Rhythm
, Chicago Trax and the people who were involved in producing and making the sound we still follow today.
Todd Terry
,
MAW
,
Kerri Chandler
,
Mood II Swing
,
Robert Owens
,
Joey Beltram
,
The Def Mix Camp
(
David Morales
),
Tony Humphries
,
Danny Tenaglia
. I was already making tunes before 1993 and was influenced by all the people before me. Although at this present time we have a huge amount of really good producers and the influence never stops. It's a great time for House music as a sound.
What are your 3 favourite productions?
I picked these tunes because it's better to talk about something you know and may have liked. They all have various stories behind them.
This became a great tune to produce and an odd experience to have. Nobody liked it. Could not give it away. I was doing an album and it became one of the cuts. The true soulful fans broke the record in the clubs and after people realized the tune was being played by a lot DJ's, it "Finally" got picked up, by my good buddy Simon Dunmore when he started Defected and he got MAW and Danny Tenaglia to mix the package. I used Digital Performer to sequence on a G3 Mac, JV 1080 on the sounds, MPC 2000 for the beats with the
Cad E-200 Mic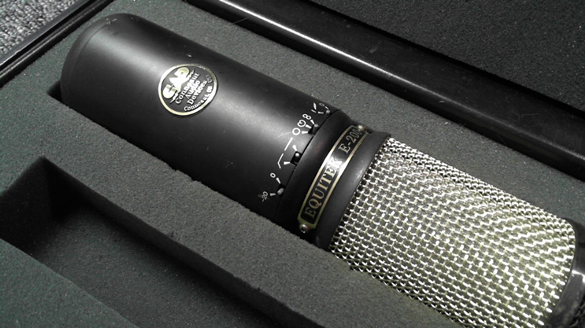 and the great voice of Julie McKnight. This was not easy to arrange. It took a solid week. This proves you can't keep a good song down. I always knew, just from the track that this was the one. I said it even before the song was put on it. Everything I wanted for this tune has come true. I still feel strange having known that, just from the chords. I have only had that feeling about 6 times in my career and all those tunes became what I expected.
I mention this because I loved what it had become. I wrote the hooks to a song that never got finished. This was the dub. I was afraid to play it because I thought it had too much energy. I was playing a set and my friend asked me to drop the tune and see the reaction. The people in the club just erupted. Once again I could not give that tune away. I flicked it on the B-side of a 12" just to put it out. It's what we did and still do, make tracks and put them out. Never knowing what will happen and how big they will become. Today we can see via the net, what tunes people have had a club moment with and I am glad that was one of them at that time. I used the E-MU 4XT with the chopped voices and drums, JV 1080 with the sounds and used the same MIC Cad E-200 on the vocals. This was not easy to arrange. It took a solid week also. I had no clue this track was going to do what it did.
I found a singer called Haze in Malaysia while I was doing a gig in 2000 and invited him to NYC to have a session with me for a new album I was doing called 'Trouble' He said, "that's what they all say", but I really did bring him. I got the track going with the wobbly bassline (JV 1080 sound via the Filter Factory). When we had the tune ready, it was time to write a song, but at that time Haze did not write and I just happen to sing the whole first verse out loud to show him what I wanted. He looked at me and asked me if I remember what I just did. I said no I was just giving you a vibe to run with. He said put on the mic before I forget what you did and he sang it. I wrote the second verse and finally Haze got into the written word and finished the 3rd verse. I used the E-MU 4XT for drums, JV 1080 for sounds; mic was the Cad E-200, with the Mackie 24 track Digital console. Once we had the vocals, the arrangement was done in the same day. It was easy because it has a typical verse hook and the tune was knocking away on it's own. This shows my natural vibe to come up with a song and not remember it and how I introduced Haze to explore his writing skills. This is one of the 6 I knew would be good.
What handy Sandy Rivera studio tip would you pass onto producers out there?
Don't be lazy. Don't go in the studio if you are way too tired. Go in with energy so you want to explore and make music. Don't let people get in your way. Turn your phone off. I mean, really pay attention. Technology at this day and age is great, but you must learn how to use it. Learning just the simple theory of music can show you how to keep things in the correct key, explore harmonies and most important can help you control your sound. If you are doing things on your own then you must learn how to mix a record. This will allow you to choose sounds that go well together and feel comfortable that your final product will sound good. Getting you tunes Mastered allows your song to be run into some solid expensive equipment you may not have and it's the last pair of professional ears to help fix any problems with the mix.
What new production should your fans be on the lookout for at Traxsource soon?
"Lost 4 Days" on Blackwiz Records and Noir & Sandy Rivera – "
SOTOM
" on Noir Music.
Sandy Rivera's Latest Release
Follow Sandy Rivera on Traxsource


Follow Kings Of Tomorrow on Traxsource


Follow Blackwiz Records on Traxsource


Sandy Rivera's 'Fall For You' Chart (April 2013)


For Booking Info: Click Here