Martin Landsky Studio Feature - Traxsource In The Studio
Martin Landsky needs little introduction – his services to the cause of house and techno have been well documented, particularly through his long and fruitful collaboration with
Steve Bug's Poker Flat label. Always willing to take chances, Landsky continues this legacy with what might be the fiercest assault of the dancefloor of the year – get ready for Ekko Trax.
And with this release landing on Traxsource, we get an Exclusive look into Martin Landsky's studio gear used on Ekko Trax & much more.
---
What equipment do you have in your studio? (full studio kit list).
Welcome to my humble "bedroom" recording and production suite. This is certainly not really the complete studio kit, but the "most essential items" are listed here.
Studio Equipment
MIXING / RECORDING:
Soundcraft Ghost 32 Channels inline console
Apple Mac Quad or something, hehe can't remember names…
Apple Mac G4, yeah I still turn it on for the older productions I keep re-working on sometimes
Emagic

AMT

8 Midiinterface
Ableton 9
Cubase 5
Cubase

VST

5.1
Rebirth
Wave Editor
Quite a bunch of PlugIns and Software Synths

RME

Hammerfall

HDSP

PCI

and

PCI

e

RME

Multiface

RME

Digiface

SSL

Alphalink

MADI

AX

ADAT

converters 24 in and 24 out
Rode NT1-A
MONITORING:
SPL

Control 2 monitor controller and headphone amplifier
Klein + Hummel O 300
Fostex 6301 B
Alesis Monitor One Mk2 with Rotel amplifier
SYNTHS / DRUMS:
Access Virus B
Doepfer MS-404
Studio Electronics Se-1x
Roland Mks 50 (Alpha Juno 2)
Roland SH-101
Yamaha DX 100
Yamaha TQ 5
Jomox X-Base 09
Akai

MPC

2500 with JJ OS XL
Studio Electronics

ATC

-Xi

EMU

E4X Turbo Sampler

MAM

MAP1 Arpeggiator
OUTBOARD FX:
Lexicon

PCM

81
Dynacord

DRP

-15
2x Dynacord

DRP

-20
Line 6 Echo Pro
TC Electronic D-Two
Roland

SRV

2000
Boss SX 700
Alesis Metavox
Alesis Bitrman
A/DA Flanger
Boss RE-20 Space Echo
Electro Harmonix Stereo PolyPhase
OUTBOARD PROCESSING:
µ (mü)

SSL

4000G Buss Compressor, custommade
µ (mü) Stereo Urei 1176

FET

Compressor, custommade
Drawmer 1968 Mercenary Edition
2x µ (mü) GE-103, Harmonic Saturator
Summit Audio

EQP

200B

DBX

160A
2x Filtek

BFE

BP1 vintage filter, custom racked

SPL

Transient Designer

SPL

Charisma

DBX

166 vintage
Alesis 3630
Pictures
NOTE: Click the images for large versions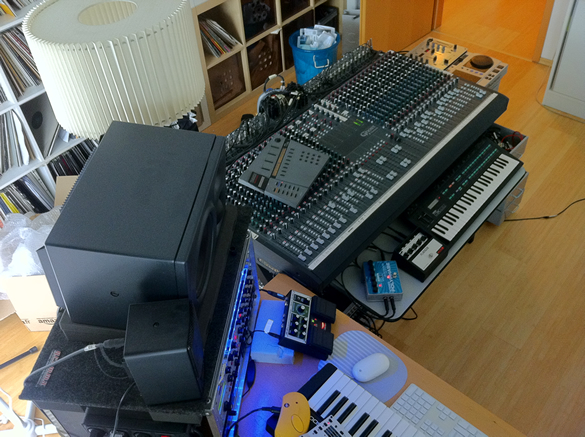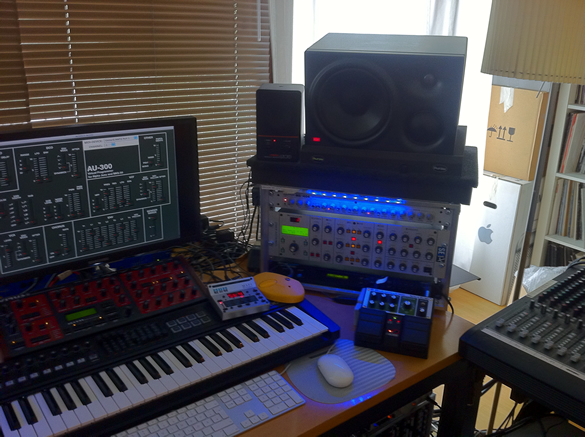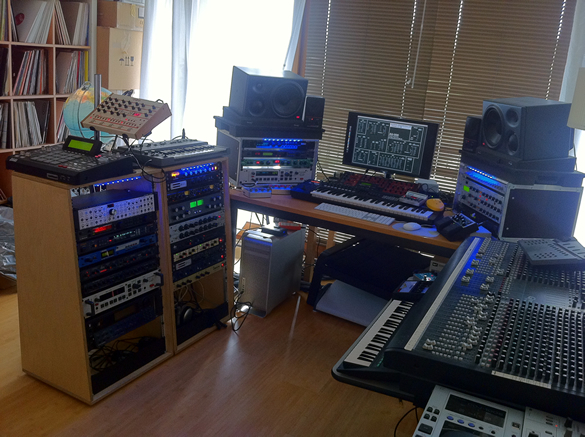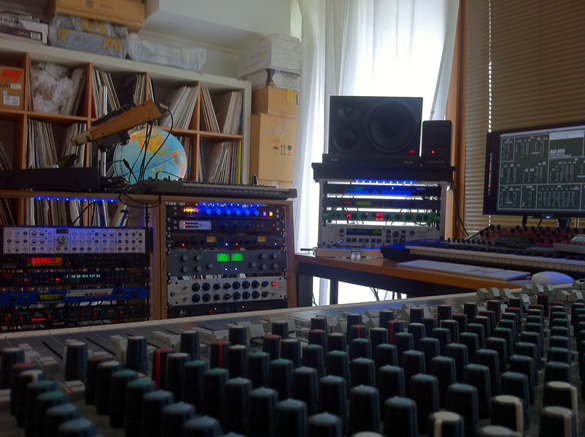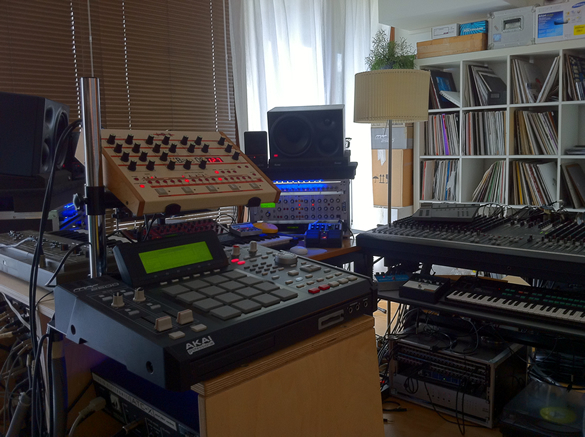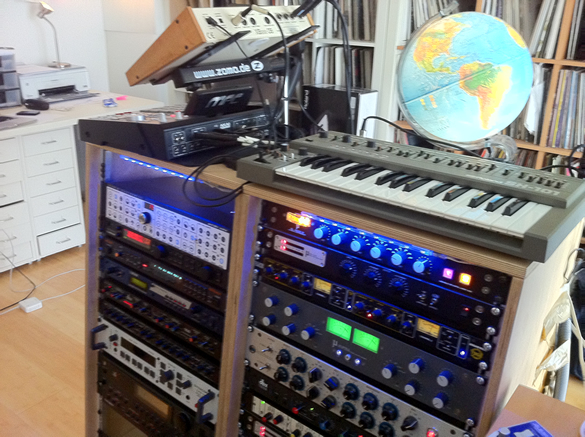 Martin Landsky Interview
What is your favorite piece of equipment to use in the studio & why?
Hmm, hard to tell, there are so many things I really love. My favourite synth is maybe the DX100, the absolutely best FM synthesizer ever made in my opinion. Don't be fooled of its small size and very very plastic housing. It was sold as a home keyboard for kids actually and the output stages in there are bloody wack, but in a sweeet way. I've never heard another FM synth with such a tone, try it and you'll know what I am talking about.
Effects wise the A/DA Flanger is unmatched. For me the Analog Flanger has such a wide range of modulation that gets really crazy. All in all The Dx100 and A/DA make a very good couple especially in the bass department.
Give us some insight into your production process. How do you typically begin constructing a track?
Oh there's no such routine, everything always starts from scratch and always based on an idea, which could be literally anything. I don't use any templates or pre-patched routings. After each production I zero the whole studio and start with a blank paper.
For inspirations I start to build ideas around, this could be a loop, a sound, a beat I programmed, a field recording, a vocal, you name it. I usually try to work on this single element for a while to get a feel for it and to build images in my mind where to take this element to, then the rest is built around that. Quite often though I end up with something completely different, where the initial part is even not covered anymore. It's always good to have plans but even better to get rid off these sometimes.
What piece of studio equipment or production process defines the Martin Landsky sound?
Huh, is there such a Landsky sound? :) I'd say it's definitely a combination of things, but the core is always the mix on the analog desk and lots of different delays and effects on sends that get automated throughout the whole track in a live manner. So aux busses and patchbays are mandatory for my way of working.
Sorry there is no one special "landsky" device that defines my sound but there's one synth that gets used in almost every production I do and that's the Studio Electronics ATC-Xi. It's such a versatile analog synth with a unique quad filter system built in (with switchable analog filters including a convincing 303 filter and a great ARP filter). It looks simple but it's quite deep in terms of modulation and routing options. I love this box. I also like this/the "mood source" style interface.
What piece of hardware/software elevated your production to a higher level & how?
Again, that's more like a little bit of everything I guess. Of course each upgrade of higher-level equipment was a boost. Better mixer, better fx, better compressors etc. Proper acoustic treatment is also one of the key elements that elevated my sound.
I remember when I got my first real proper (do I dare to say Hi-End?) compressor, which was quite some time ago. That was a custom made SSL Bus compressor clone, modelled after the original 4000G series console compressor, which was hard to get back in the days if you didn't want to buy a vintage SSL console. These were expensive and really bulky actually. ;-) With this compressor I really learned and understood how compression really works and how it could contribute to the overall groove and tone of tracks. Also how it could change the feel and perception of music actually.
What fresh equipment have you recently added to the lab?
Kind of weird and funny story, at least to me. I always loved the Roland SH-101, but then I never owned one personally. So recently I got this lovely refurbished and midi-fied 101 from www.analogia.pl. This sassy little lady came here in truly unbelievable condition, like brand new from the factory. No need to mention that I fell in love and will never part with her.
What are your essential studio supplies (food, drink, cigs etc)?
I don't have many routines in the studio but these 'tres amigos' are more or less always close by.
My mandatory daily medicine "Effortil" (thanks mom for passing this genetic disease to me ;-))
My Nicorette chewing gums (I quit smoking quite a while ago but still can't get over the urge, my dentist curses because of my heavy chewing)
And last but not least, I never really refuse a nice glass of wine, or two, maybe three..

PROS

,

SALUT

,

CHEERS

,

KAMPAI

,

SKOL

.
What list of artists have influenced your sound?
Considering my age and the time I am doing what I am doing, it's obvious that this would rather be a very long list as I started Dj-ing in the 80s even before house and such existed. Naming a few artists and not mentioning the majority of my personal "heroes" simply wouldn't do justice to the subject. So for sure all the 70s / 80s funk stuff and the early house and pre-house productions in late 80s got me into DJing and producing initially. Then the whole early Chicago and NY era and of course the Detroit electro and techno wave inspired me a lot. And even nowadays there is so much amazing music that keeps on inspiring me. Certainly there's also a lot of crap out there, but there always has been.
What are your 3 favourite productions?
Hmmm, ok I will pick 3 tracks, that are / were at least very important to / for me.
DK7 "The Difference" (Martin Landsky Remix) Output Recordings
The original was produced by Jesper Dahlbäck and Mark O´Sullivan and originally released on DK Records. That was one of a kind, a dark, energetic acid techno track I was digging a lot. Output Recordings UK licensed the track and asked me for a remix, which was a big honour. I think this was one of the crazier tracks I did. The weird bass / lead line on this is still a firm favourite. That record was out 2002 or 2003 or so.
Martin Landsky "1000 Miles" Poker Flat
Released in 2006 on Poker Flat. This is probably my biggest hit still to date. Laurent Garnier and Gerd aka Geeeman recently remixed it also. I am quite intrigued by how this simple track is still moving me a lot emotionally even after I've heard it about a thousand times.
M:Landsky "Intimate Passion" Intim Recordings
This one dates back from 2000 and was released on my former own label Intim Recordings. I still love these deep double bass arco strings samples that I used there, plus the heavy electro inspired beats that punch like a wet towel and the short vocal snippets do the rest here for me. I know, not very humble but yes I like that track :)
Just a side note: Yes, I really DO like my more recent releases a lot, too. :)
What handy Martin Landsky studio tip would you pass onto producers out there?
Music is an art form and therefore a channel of expression, even if we are talking dance music here, its still a way to express yourself. Too often this seems to get lost in translation these days. Sure there are true and tested formulas for working a dance track, but do you want to create something sustainable, something personal or do you just want to cook spaghetti? Spaghetti will stave off hunger but the satisfaction you get from creating something bigger, something that is a part of you and is uniquely connected to your very own emotions is so much more rewarding. So even if its hard, always try to forget the "rules" on how to make the perfect hit, how to get famous, how to be like everyone else. But start to painstakingly learn your tools and all the techniques that will enable you to express your inner self throughout the language called music. Nobody said it's an easy task; sometimes it's a freaking hassle.
What new production should your fans be on the lookout for at Traxsource soon?
As mentioned above the '1000 Miles Remixes' by Laurent Garnier and Gerd aka Geeeman have just been released on Poker Flat.
My new EP 'Ekko Traxx' on Poker Flat is out any day.
And most recently I just finished a remix for Miss Kittin which will be out very soon and is still a little secret, so pssst!!!
Martin Landsky Latest Release
'Ekko Trax' is out now on Poker Flat


Martin Landsky Follow Pages on Traxsource