Aki Bergen Studio Feature - Traxsource In The Studio
With Aki Bergen's latest release, the Respect & Spicy Basslines EP just hitting the digital selves at Traxsource, we get an Exclusive look into his studio, gear used & much more.
---
What equipment do you have in your studio? (full studio kit list).
Neurotraxx Studio Blue
SUMMING / DAWs
MacPro Intel 3.2 GHz Quad Core
iMac 27 inch Intel 3.1 GHz Quad Core
MacBook Pro 15inch Intel 2.6 GHz Quad Core
MacBook Pro 13inch Intel 2.5 GHz Quad Core
Hackintosh i7 Quad Core
Universal Audio Apollo Quad Core
Dangerous 2-Bus
Dangerous LT
Pro Tools 10
Logic Pro 9
Cubase 7
Mackie

MCU

Pro
Mackie XT Pro
CONVERTERS / MONITORING
Apogee Rosetta 800

RME

ADI

8-DS
Mackie Big Knob
2x

KRK

Vxt 8
2x Adam A-7
2x Auratone 5C
Beyerdynamic DT 770
Sennheiser HD 25-C
Sennheiser

HDJ

2000
DYNAMIC PROCESSORS / EQ
2x Urei LN 1176 Dual Peak Limiter
1x SSL4000G Bus Compressor
2x

DBX

160 A Compressor/Limiter
2x

DBX

266 XL Stereo Compressor Limiter
2x Pultec

EQP

-1A
1x Thermionic Culture The Phoenix SB
1x Teletronix LA-2A
1x Universal Audio Solo 610
SYNTHESIZERS
Access Virus C Table
Access Virus TI Table
Arturia Minibrute
Roland D-50
Roland TR-606
Roland TR-808
Roland JP-8000
Yamaha DX7 II
Moog Little Phatty
Moog Sub Phatty
Clavia Nord Rack 2
Clavia Nord Lead 3x
Korg Trinity
Korg MS-20
Korg Microkorg
Korg Microkorg XL
Elka Wilgamat 1967 Vintage Synth
Waldorf Pulse
Doepfer MS-404
E-MU Planet Phatt
MISC
Native Instruments Machine Micro
2x Emagic AMT8
2x Behringer Ultrapatch 8000
Behringer Eurorack
2x Technics 1200

MKII

Rode NT2
Neurotraxx Studio Orange
SUMMING / DAWs
MacPro Intel 3.2 GHz Quad Core
MacBook Pro 15Inch Intel 2.6 GHz Quad Core
MacBook Pro 13Inch Intel 2.5 GHz Quad Core
Project Lead 3.2 GHz Quad Core 24Gb Ram

RME

Fireface 800
Dangerous 2-Bus
Dangerous LT
Pro Tools 10
Logic Pro 9
Cubase 7
M-Audio ProjectMix
Steinberg CC121
Native Instruments Kore 2
Korg Nano Control2
Wavelab 7
CONVERTERS / MONITORING
RME

ADI

-8 DS
Mackie Big Knob
2x Genelec 1032 A
2x

KRK

Rokit 8
Montarbo Amplifier

TRIO

Mosfer
2x Montarbo W400 A
Montarbo Subwoofer 540
2x

XXL

DX16

DAP

Soundsystem 800w
Behringer UB 1202
Sennheiser HD215
Sony

MDR

-CD 480
Sony

MDR

-D 333
Sony

MDR

-D 700
DYNAMIC PROCESSORS / EQ
2x Urei LN 1176 Dual Peak Limiter
TL Audio Ivory 5021 Compressor/Limiter/Expander
TC Electronic C 300 Compressor/Limiter/Gate

DBX

160 A Compressor/Limiter
2x Pultec

EQP

-1A
SYNTHESIZERS / INSTRUMENTS
Moog Voyager

RME

Moog Little Phatty Stage II
Moog Mooger fooger CP-251
Moog VX-352
Clavia Nord Wave
Korg Microkorg XL
Korg Radias
Dave Smith Prophet 8
Sherman Filterbank
Roland HP 206
Funk/Pop/Fusion Drum Yamaha Beech Custom Remo Weather King Ambassadors
Jazz Drum Daila Custom
Electric Bass Eko

VJB

-200
Pictures
NOTE: Click the images for large versions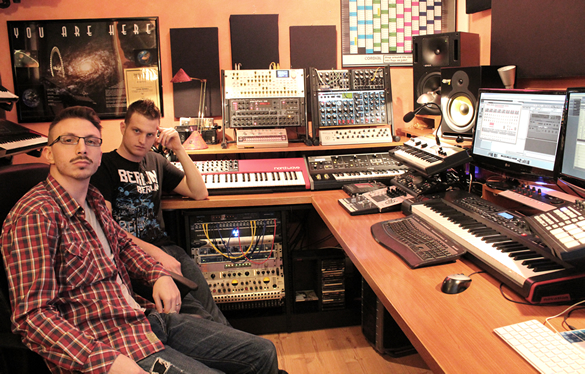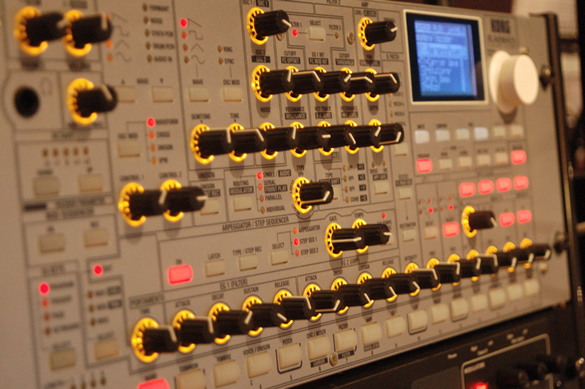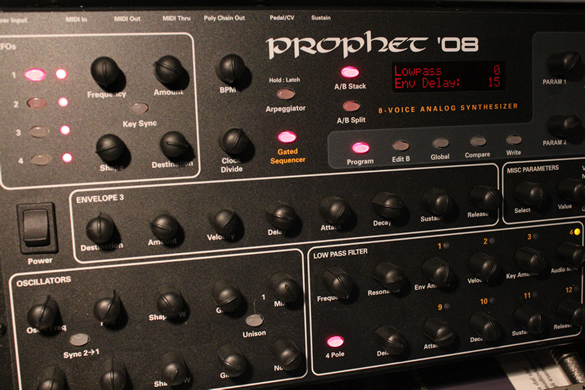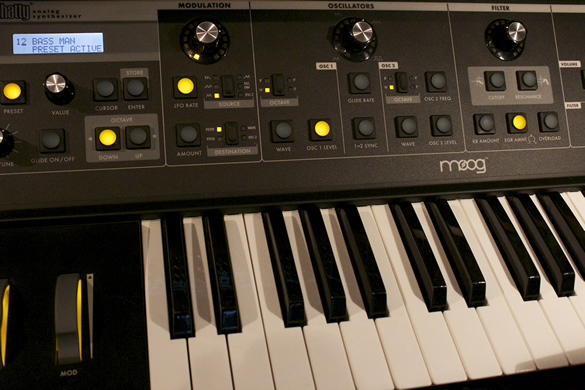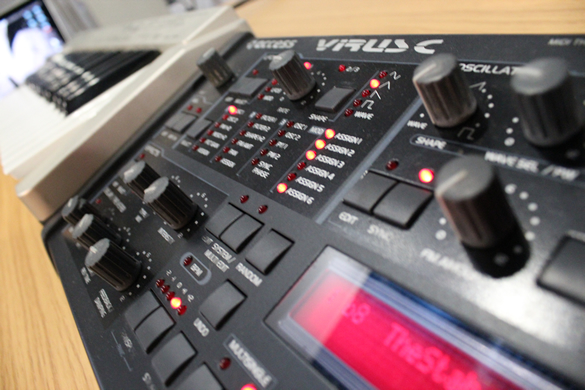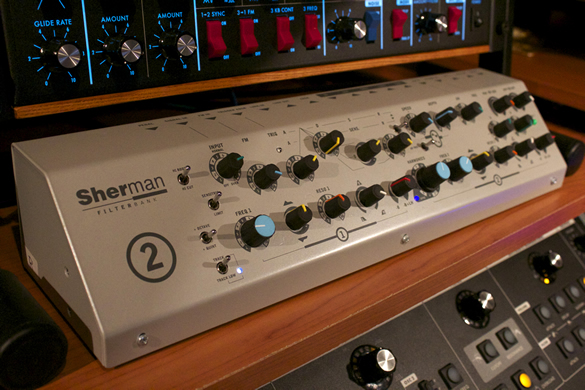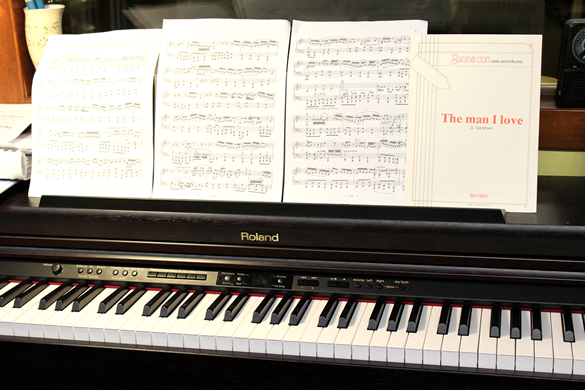 Aki Bergen Interview
What is your favorite piece of equipment to use in the studio & why?
I am a Moog lover. Daniel Jaze, and me who is my business partner and friend, are completely into that inimitable and fat sound. We have 4 Moog synthesizers at the moment but we're going to surely buy a new one very soon… It's called Gear Acquisition Syndrome! Lol.
Honest, it's hard to pick the best one between them but I would probably go for the Moog Voyager RME. It has a pretty cool versatile attitude for any kind of musical genre, so you can easily find the sound you were looking for in a few steps, which is simply awesome for an analog machine.
Give us some insight into your production process. How do you typically begin constructing a track?
I actually don't have any customary processes but would say, I make tracks for the dance floor so most of the time I start building a groove that really satisfies my feeling and emotions as well. Also I put my hands on the piano and see what happens next.
At times, an idea comes up to my mind and first of all I try to get an impression if it is a good one or not. Generally speaking, I use to sit down in the chair, look around and figure out what I can do today.
What piece of studio equipment or production process defines the Aki Bergen sound?
I would definitely say the Clavia Nord Wave. It's perfect for making special chord sounds – rhythmical and harmonic patterns that give me the right spicy sauce I need for my tracks. Basically through this synthesizer, I'm able to translate my ideas in music, simply by playing knobs for a few minutes.
What piece of hardware/software elevated your production to a higher level & how?
No doubt: Dangerous 2-Bus. I've worked with analog consoles for many years and this very long experience has helped me to gain an insight into the numerous differences between digital and analogue domains – so when I had the need to start off working also with digital stuff, I didn't want to lose warm, punch and details that traditional vintage consoles have given to me in the past. To summarize, that 16-channels summing device gives me what I need: clear stereo imaging, headroom and pure definition.
What fresh equipment have you recently added to the lab?
Arturia Minibrute. It is an analogue beast! Acid basslines, distorted and noisy waveforms, multi-osc performance, all of those ungentle and aggressive sounds come from this baby.
What are your essential studio supplies (food, drink, cigs etc)?
A few weeks ago somebody asked me, are you an alien? It's quite obvious I am not, but sometimes I feel like a robot – so this little preamble to say something which is probably weird but it's all true: I have no studio supplies. Early morning, when I go to the studio, I use to have only 1 break for lunch, sometimes I drink water and go to the bath :) that's it!
What list of artists have influenced your sound?
I would say I have a "varied" list of inspiring guys such as Mousse T, Boris Dlugosch, Jean-Michelle Jarre, Daft Punk, lUffie, Aphex Twin, Earth Wind & Fire, The Jackson 5 just to name a few.
What are your 3 favourite productions?
Aki Bergen – Into My Soul feat. Carmen Sherry

Miguel Migs – Everybody feat. Evelyn "Champagne" King (Aki Bergen Remix)

Aki Bergen – Don't Call Me Artist

What handy Aki Bergen studio tip would you pass onto producers out there?
Work in mono, work in mono, work in mono! I heard a few super engineers and producers say "mono is dead" but to my mind it isn't. Try to get used to that, and you'll turn it out to be useful. Let me also say that behind of any handy advices there is something, which is called "knowledge". It definitely speaks better than any tips & tricks.
What new production should your fans be on the lookout for at Traxsource soon?
As I recently wrote on my social networks:
On the 3rd of May, will be released my new work which is called Respect & Spicy Basslines EP. It'll be a 3 tracks EP, definitely not in step with the trend these days, but purely made with love. The main song is "Respect feat. Ken Rosen", written by Daniel Jaze and myself. It's a sort of tribute to all the DJ's, producers and artists, pros and beginners, music lovers and music pushers, in general to whom have been making sacrifices every day, years, just to keep underground music alive.
Aki Bergen's Latest Release
'Respect' is out now on Neurotraxx Recordings

Aki Bergen Follow Pages on Traxsource
Follow Aki Bergen on Traxsource


Follow Neurotraxx Recordings on Traxsource