Will Monotone - Inside The Track 'Reality'
Originating from Boston, USA, Will Monotone has been a strong part of the house music scene for close to 11 years. Starting out as an avid club goer at the young age of 14, he fell in love with the music and without hesitation wanted to migrate from the floor to the DJ booth. While working in the world renowned record store Boston Beat, Will was immersed deeply in all forms of house music on a daily basis with influences from legends like Francois K., John Digweed, Steve Lawler, Victor Calderone, Armand Van Helden. READ MORE
---
With his recent release 'Reality' via Weplayminimal making waves on the Traxsource Tech House Top 10 chart. We sat down with Will Monotone to get an indepth look 'Inside The Track' and more with this Exclusive interview.


The Interview
1) Congratulations on the new Reality release via Weplayminimal. You're certainly dropping a lot of great music this year. Tell us how 'Reality' came about, what inspired you?
I have always been inspired with the classic hip-hop, dance, and R&B sound and production from the 80's and 90's. I fell in love with the rawness of the drum patterns from those eras, which is why I was instantly attracted to the production of Jazzie B of Soul II Soul. Unlike the music of today, I actually enjoy the fact that they're little flaws in the tracks from back then. It gives it an extra grittiness that I try to add to my productions. 'Reality' is one of those tracks that fuses everything that I'm into.
The Track
2) With Reality & a lot of your releases, we've noticed, major emphasis on the drums & percussive elements to really get the track moving. What equipment & plugins do you use to achieve your drum sound? & Which producers influenced your drum production?
I was always into the chunky, "beat driven" style of house music. I was never into melodies, synths and pads. I just wanted a good groove, filters, reverb and a delay. As for equipment, I use Native Instrument's Maschine for a lot of my drums because it's very close to the old school drum machines. As for the plugins, Softube's Trident A-Range & Tube-Tech PE 1C helps me define my drum sound.
There are so many producers that have influenced me over the years but if I had to name a few I would start with Peace Division. Their drum work was like no other. You can always pick out PD productions with ease. Still to this day their sound is relevant. I would also have to say, Steve Lawler, Danny Tenaglia, DJ Premier and Armand Van Helden because he's the "sample slaya".
NOTE

: Click the images for large versions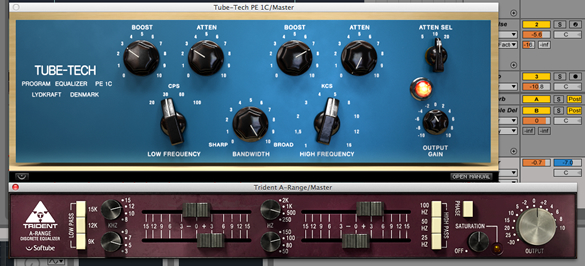 3) Production wise, what is it about this track that makes it work ? (what machine, synth, plugin, etc makes it what it is?)
What makes this track work is the groove and drum pattern. Although it's such an overused term, the groove is the heart and soul of every track. You can have the most banging beat in the world but if your groove isn't right, it's just a kick and a snare to me. It will sound very basic. That's why I sampled some of Soul II Soul's beat to give it that 90's hip-hop swing.
4) What is the one Machine, Program, Sound, Drum machine, Technique which Characterizes the signature Will Monotone sound?
I use Ableton Live Suite 9. I started using Ableton when version 4 came out. Before that, I was using Pro Tool's and Reason. It instantly clicked in my head with the way I do my audio, sampling and drum programming. I use almost all of Live's built in effects and synths. If you spend the time to learn it, you really don't need anything else. I also use Maschine and my Soundcraft Spirit E12 mixer.
5) What is the one Piece of Kit that you both simply cannot do without?
It would have to be my Soundcraft Spirit E-12. It's the heart of my studio and I've got very accustomed to using it for my mix downs.
6) Any Advice for your fans on how to make it in todays fast paced game?
I'm still trying to figure that out myself so if you guys find out first let me know lol, But in all seriousness the one thing I've learned from my career so far is don't conform to a trend or a "crew" if you genuinely like a sound and your good at making it then make it and do it at your own pace because no one else is in control of you but you so don't force it.
Take the time to take everything in and really find your niche. Just because the local DJ's in your city don't like/play your music or book you doesn't mean there aren't 2000 other people somewhere else in the world that love it.
Will Monotone Follow Pages on Traxsource
Follow Will Monotone on Traxsource