Terry Grant Studio Feature - Traxsource In The Studio
Having worked with labels as varied as Bedrock, Deep, and Classic Recordings, Terry Grant has covered a lot of ground within the world of house music. His penchant for deep, soulful, melodic sounds has been a mainstay of his work as a producer, regardless of category or genre.
With his recent Atmospheric Textures producer pack landing on Traxsource via Loopmasters we sat down with Terry to get an Exclusive look into the studio gear used & much more.
---
What equipment do you have in your studio? (full studio kit list).
Studio Equipment
NOTE: Click the images for large versions
COMPUTER


Computer is a Macbook Pro (mid 2012), 16 gigs of ram, 2

OWC

SSD

s internal, and a third external

OWC

SSD

for samples. Usually sits on the desk plugged into a 27 inch Thunderbolt display.
RACK

/

OUTBOARD


In the rack is a Metric Halo

ULN

-2 (with the

DSP

), Black Lion Audio B12A preamp,

FMR

RNP

and

RNC

,

ART

Pro

VLA

II,

BBE

462 (used mostly for bass guitar), and a couple of custom Neutrik patch bays to tie it all together.
MONITORS


Monitoring is handled by a pair of Mackie HR824s, a pair of

DCM

near fields, and a pair of old crappy speakers from my dad's first "good" stereo system in the 70s.
SYNTHS


Synth collection is pretty sparse (so far), as I'm primarily a guitar player, but I use an E-MU XBoard49, a MicroKorg, A MeeBlip SE, and a XoXBoX, which is a 303 clone.
GUITARS


Guitars include a Fender 62 Thin Skin Stratocaster, a 52 Thin Skin Telecaster, A G&L 4 string bass, and a couple of Martin D15 acoustics – one Mahogany and one Spruce.
MICROPHONES


I have a lot of microphones for a guy that mostly records by himself, but the collection includes a Rode

NTK

(main vocal mic), a

CAD

M179, Cascade Fathead,

AKG

D112, a pair of Audio Technica 4051's (overheads and acoustics), several Shure SM57's, a Shure SM81, and a couple of

SDC

's built into spent shotgun shells (really) by the guys at 12GaugeMicrophones.com.
Aside from all that, it's various drum kits, percussion from around the world, and guitar amps and effects.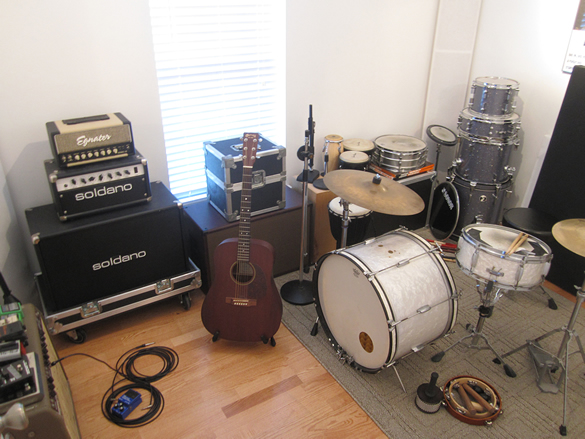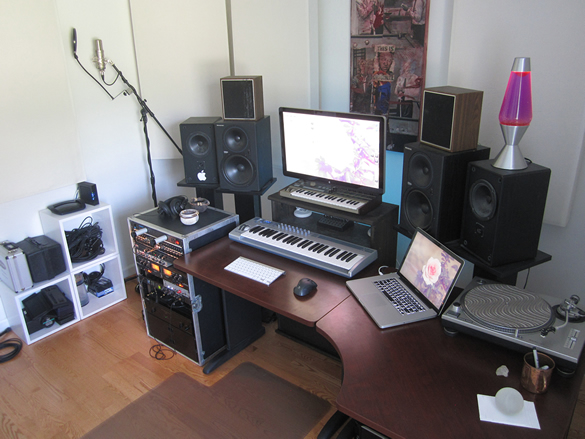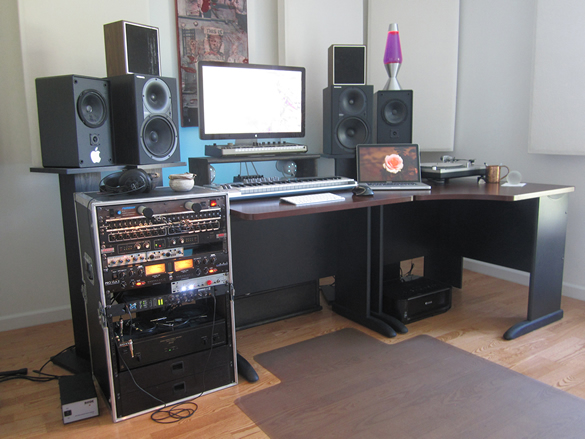 Terry Grant Interview
What is your favorite piece of equipment to use in the studio & why?
Hmm… right now it's probably the ART Pro VLA II, which is a stereo tube comp I use to fatten up synths or vocals on the way into the computer. It's also great for running stems or full mixes through in a round trip out and back into the computer. It has a fat, round tone to it, and it's insanely cheap for what they have going on under the hood there. In fact, most of the outboard gear I use is pretty affordable, as I'm a big fan of "bang for your buck" type of kit. Aside from that, I've finally been getting into Reaktor, after having owned it for several years. It's all over the new project for Loopmasters, as well as remixes I just finished up for Classic and Proton.



Give us some insight into your production process. How do you typically begin constructing a track?
I'll usually sit down with an idea in mind of what kind of track I'd like to do that day. Mellow, aggressive, fast, slow, old drums, techy drums etc. Then I'll usually start by cutting up some drums and percussion and rearranging them into something new. I have a pretty large collection of samples and loops from old funk and R&B records to draw from. I love the close, dry drum sounds that were popular on records in the late 60's and 70's, and I'll usually find something I like in there. I also record a lot of my own drums (played badly by myself), and cut those up as well. After that, it's all about the hook, whether it's a vocal, or a melody.
What piece of studio equipment or production process defines the Terry Grant sound?
Man, I don't know how to answer that. I'm really good at recording hand claps, as I seem to do it separately for every track I do. ;) Seriously though, it's probably my penchant for 70s era drum and percussion sounds. That disco/R&B influence is always in there. I play a lot of live bass on records too, and that's something you don't always hear.
What piece of hardware/software elevated your production to a higher level & how?
I'll throw you a curveball here – the single best thing for my production in the last several years hasn't been a piece of gear or software, it's been the website Gearslutz.com. It's a message board/user forum where people at all levels of the recording industry go to talk shop about gear, computers, production tips, etc. The advice you get from the people there is almost uniformly helpful and positive. I go there to read gear reviews, ask questions, and generally interact with people who know the inside of a studio better than I do. If you're into recording and production and you're not already hip to Gearslutz, get hip.
What fresh equipment have you recently added to the lab?
The ART Pro VLA II, and the Black Lion Audio preamp, which is an API clone, basically.

What are your essential studio supplies (food, drink, cigs etc)?
Red wine, whiskey, coffee, and coconut water. (Not necessarily in that order)
What list of artists have influenced your sound?
Wow… well, in no particular order: Chic, Parliament, Massive Attack, Chemical Brothers, Underworld, Jimpster, Burial, Deep Dish, and every alcohol infused night I've ever spent in a dark club.
What are your 3 favourite productions?
Hmm… Let's go with I'll Kill You (Softly), Chinese Laundry (Deep Mix), and the original deep vocal mix of Songful Bird. I'm also really jazzed for people to hear the new sample set for Loopmasters. Sonically speaking, it's probably the best work I've ever done.
What handy Terry Grant studio tip would you pass onto producers out there?
There are 5 easy steps to a great mix. The first three are arrangement, arrangement, and arrangement. The other two are whatever you want them to be… panning, EQ, gain staging, the colour of your shirt, the weather outside.
Arrangement is everything, and a properly arranged tune – where every part is there for a reason – will practically mix itself.
What new production should your fans be on the lookout for at Traxsource soon?
The sample set for Loopmasters, which is 600mb of ethereal, multi-layered soundscapes. I really dig it. I also wrote and sang two tunes on Luke Solomon's recent LP on Classic Recordings, and they should both be singles soon, so look for that.
Terry Grant's Latest Release
Terry Grant Follow Pages on Traxsource