Claire Ripley Studio Feature - Traxsource In The Studio
Over the past 3 years Claire has stormed in to the House and Techno scene with an array of stunning releases with her first major E.P getting signed to Steve Bug's highly respected imprint Dessous Recordings. Becoming a regular feature on the label she not only showcases her original work but also remixing.
With her Make Or Break EP landing on Traxsource via Audiomatique we sat down with Claire to get an Exclusive look into the studio gear used & much more.
---
What equipment do you have in your studio? (full studio kit list).
Studio Equipment
Macbook Pro
Art Tube Pre-Amp
NI Audio 8 Soundcard
Tannoy 8D Monitors
Roland Alpha Juno 1
Yamaha DX100
Yamaha CS1X
Korg Poly 800
Dave Smith Instruments Tetra
Boss RE-20 Space Echo Pedal
Jomox MBase 11 Analogue Bass Drum Module

MFB

522
Novation X-Station
Mackie Mixer
Kenton Midi Converter
Lots of

VST

's/Software
Pictures
NOTE: Click the images for large versions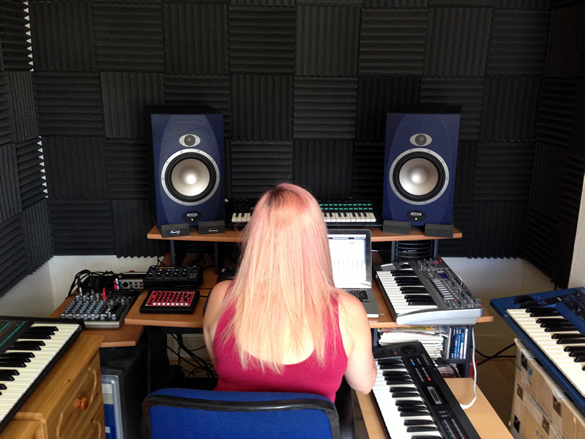 Claire Ripley Interview
What is your favorite piece of equipment to use in the studio & why?
It's quite hard to pick a favorite as I love each piece of equipment for different reasons, but if I had to chose a favorite for the most used at the moment it would be the Dave Smith Tetra. I think this is probably an essential for the tracks I want to make right now. But I really love the DX100 for it's great FM bass sounds, the Juno for strings and pads, and the Space Echo pedal has really added that great dub delay sound.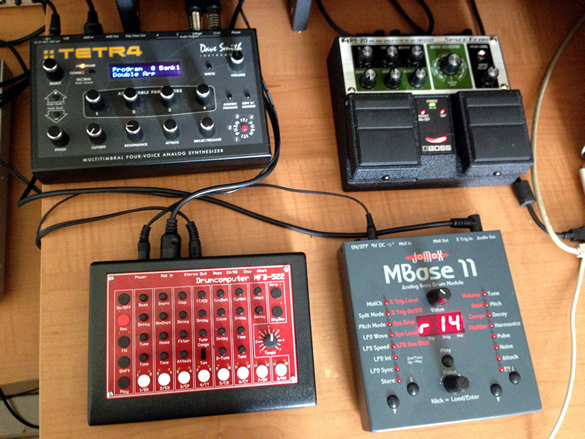 Give us some insight into your production process. How do you typically begin constructing a track?
I often try to start a track in set ways, usually with the drums and baseline when I can, but often I find myself moving onto something else playing around until I hear the sound I like. When I first started making music I would sit for hours trying to follow regimented structures, just using software, it became boring, predictable. These days using more hardware enables me to feel so much more involved and enthusiastic about the process from start to finish, finding the special random sounds that add that winning quirkiness.
What piece of studio equipment or production process defines the Claire Ripley sound?
Someone once reviewed my music as "locked in deep house grooves with minimalist touches" and I thought this was a good description for the production process. In terms of studio equipment I like a variety of different sounds so it is more a case of particular sounds brought together rather than pinning it down to one of many sounds that contribute to the finished product.
What piece of hardware/software elevated your production to a higher level & how?
The software that helped right in the beginning was Ableton and still is actually. In terms of hardware, I recently brought a Jomox and it has enabled me to create drums with the classic raw analogue sound I had wanted to create. Also the DX 100 has given me the bass sounds I had been looking for. I also have to give credit to the Boss pedal which gives so much to my tracks through its random-sounding multiple delays and tap tempo, this is a great winner to me.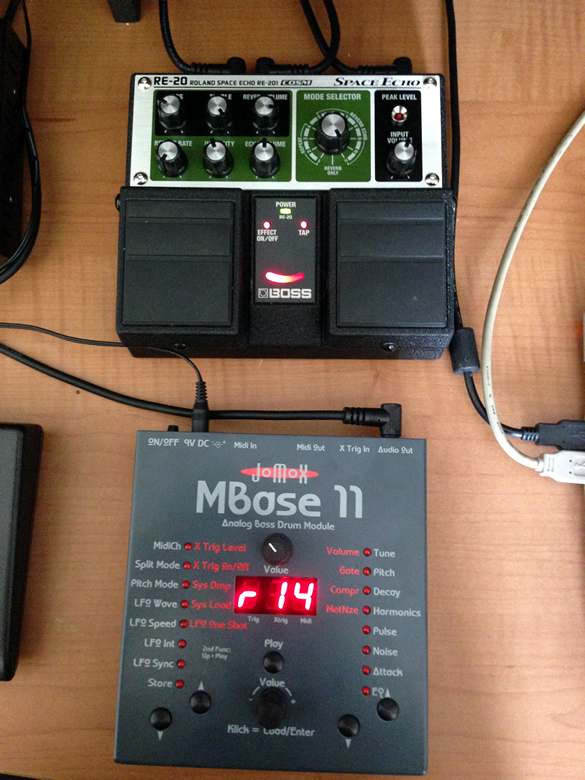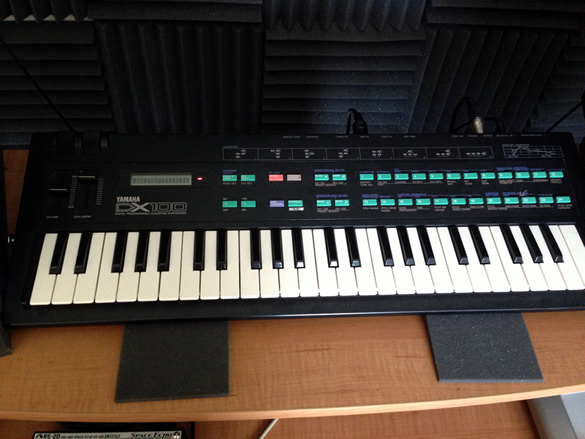 What fresh equipment have you recently added to the lab?
My most recent addition is the Jomox Mbass 11. It's such an amazing piece of equipment for the money with great analog sound. There is still a lot left on my list though, a new soundcard and a new compressor being at the top of it. I doubt the wish list ever ends; there are so many continual improvements you can make to your sound.
What are your essential studio supplies (food, drink, cigs etc)?
Always lots of drink, I drink about 4 liters of water a day so this is essential. There is often a cat or 2 present but I'm not sure this adds anything to the finished product! So really the most essential supplies are still the equipment.
What list of artists have influenced your sound?
What are your 3 favourite productions?
Claire Ripley – Labyrinth (Dessous Recordings)
I love this track because it was my first release and it came on Dessous, which really was a dream come true. Gorge really delivered on the remix too so this has a special place for me.
Claire Ripley, Zeitgeist – Crystal Meth Barbie (Highgrade Records)
I was really pleased with this production with my partner Zeitgeist on High-grade. It received a lot of support, Steve Lawler charted it at number 3 in his yearly chart and played it a lot when it was released, it's a real crowd pleaser.
Claire Ripley – Slow Loris (Murmur)
This release on Geddes murmur records did really well, accompanied by a Solomun remix to boot. I had a lot of really positive feedback on this release.
What handy Claire Ripley studio tip would you pass onto producers out there?
My tip would be to pay attention to Eq'ing. For example, create space for the sounds in each track by using an EQ or filter and remove any unnecessary frequencies. Cleaning up frequency like this can make a big difference to your sound.
On a more general advice note I would say don't give up, keep going, keep learning, never be cocky, try harder. Don't limit yourself to following the faddy sound, stick to the sound you love the most and aim to make music that is timeless. Real artists don't move away from what they believe in to make money.
What new production should your fans be on the lookout for at Traxsource soon?
My new release on Audiomatique – Make or Break E.P with Patrick Chardronnet Remix, I am so pleased with this release. Also I have an e.p on London based Act Natural coming soon and a remix of Juliche Hernandez on my label Phobic Records. I have also started a new alias project with Richard Belsom (Zeitgeist), eight tracks for this project so far, and we're both extremely happy with the sound! Coming to a label near you soon…..
Claire Ripley Latest Release
Follow Pages on Traxsource