Ralf Gum - Inside The Track 'Never'
GOGO Music keeps at it with this stunning and real heartfelt song titled 'Never', which gave Ralf GUM's album 'Never Leaves You' its name. Featuring Chicagoan crooner Jon Pierce and Kafele on trumpet and background vocals, the song received much praise since the long-player was released. Finally it receives its single release with remixes by no one less than the legendary Louie Vega.
With Ralf Gums excellent album cut 'Never' featuring Louie Vega mixes via GOGO Music just landing on Traxsource as a full single. We sat down with Ralf to get an indepth look 'Inside The Track' and more with this Exclusive interview.
---
The Interview
1) Since your album release, the LP singles & remixes have really gained a lot of support & now with your latest single 'Never', this looks set to do big things. What has been the response in clubs across South Africa & other destinations?
The response on the whole album and the previous singles has been way beyond my expectations and I couldn't be happier about it. The new single 'Never' received much praise, especially from the real heads. Since Louie finished his remixes and started playing them, I received quite a fair amount of requests for his mixes, too. I am thankful for all the interest, as it is a quite special tune to me.
The Track
2) Tell us more about the 'Never' single. How did it came about, what was the main inspiration behind it & why did you choose Louie Vega for the remixes?
When I started working on the 'Never Leaves You' album I approached Kafele for collaboration on a song. After the success we had with 'Complicated' and as he's such a cool, easy going guy, I definitely wanted to work with him again. I sent him the music, which became the album title 'Burning Star'. While he was working on it, he came back to me and told me that he has this buddy called Jon Pierce and a song-idea together with him and asked if I would be interested to hear it. Obliviously I was and fell instantly in love with it, when I heard the rough version. After changing the music completely, 'Never' even gave my album its title. It was actually not me who chose Louie for a remix, but Louie choosing the song. I wanted to have a Louie Vega remix for the label for a while and sent him my album, to see if he would like to rework one of the songs. He instantly chose 'Never', which is in his own words is 'simply a beautiful song'.
NOTE

: Click the images for large versions
3) Production wise, what is it about 'Never' that makes it work? (what machine, synth, plugin, etc makes it what it is?)
I don't think it is a machine or specific instrument that makes the song work. It is rather the combination of a great vocal together with all great musicians involved. Horns, Guitar, Bass, Rhodes and most of the Percussions are played live. If I really have to take out something specific, I would go for the amazing conga performance by Chris Fehre, who turned the track into a crazy Rumba in it's second half.
4) What is the one Machine, Program, Sound, Drum machine, Technique which characterizes the signature the Ralf
GUM

sound?

Whatever I work with, the instruments I use or on what programme I mix, I tend to sound similar, so I guess it is my ears. Literally I think the ears of a producer are the connection of his soul to the world. If you really want a 'tool', let's go with the Fender Rhodes. I can't remember when the last time was, that I did a song without Rhodes.
5) What is the one Piece of Kit that you simply cannot do without?
Well, these days it probably is the computer, just as for most other producers. Whether you use it only to sequence or to fully produce your songs, there is no way around it anymore. The sound quality you can achieve with all DAWs these days is quite good. However since I had the pleasure to record lately a few times in the amazing Raw Artistic Soul studio of Phil Kullmann, I decided to invest in high end analogue equipment again.
6) Any Advice for your fans on how to make it in today's fast paced game?
Passion and patience are the keys. Always follow your heart instead of the latest hype and keep improving your skills. Passion and patience are the keys. Always follow your heart instead of the latest hype and keep improving your skills. Even though the world is on a fast pace nothing happens over night, but eventually you might be recognized for your own sound, which makes you stand out of the lot.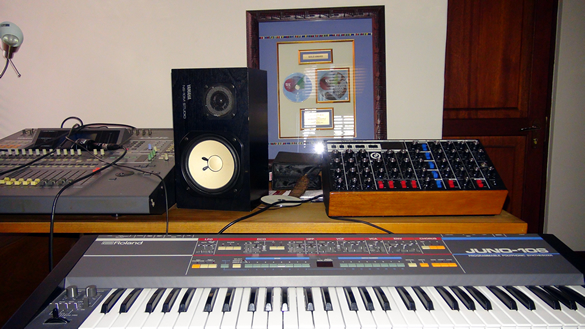 Ralf Gum Follow Pages on Traxsource