Shur I Kan - Inside The Track 'Right Now'
Hype Text by Lazy Days Recordings
It's with great pleasure that we welcome back Shur-I-Kan with his 3rd outing for Lazy Days. Once again, Tom Szirtes delivers a strong versatile EP. Right Now is the main one here. It's been a life saver and a great opener in my sets lately with its catchy hook and vocals. It works at any time of the night. DoggGoan changes the vibe and goes into a more jacking territory. A bit more unusual for Shur-I-Kan's fans but nevertheless quite effective. We close the EP with I Like It, a collaboration between Tom and Dan D'Nell, which was a highlight on our recent Summer Daze compilation.
With '' track via riding high on the & in the top half of the overall . We sat down with Tom Szirtes (aka Shur I Kan) to get an indepth look 'Inside The Track' and more with this Exclusive interview.
---
The Interview
1) Your 'Right Now track has really struck a nerve on Traxsource & is currently riding high, both on the Deep House & overall Top100 charts. What is it about the track that you think makes it appealing to the masses?
God knows, I assumed it was my own personal sex appeal! If not it must be funky bass line that gets the dance floor moving!
NOTE

: Click the images for large versions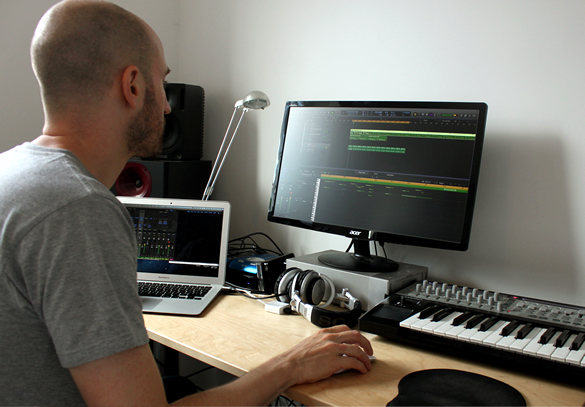 The Track
2) Tell us more about 'Right Now'. What was the main inspiration behind it and what prompted the musical direction?
It came about one night when I searching through my hard-drive for old unfinished tracks. Its How I usually work, and I suspect I'm not alone in this, is that I work on an idea for a bit but then get bored and move onto something else. Then when I'm searching for inspiration I'll search through my library of ideas and use them as a starting point for new track. I may have typically hundreds of ideas sitting around – some of them just loops, others complete arranged tracks that I'm not quite happy with.
I have a confession actually, I didn't realise it until long after I wrote the track but the beat in 'Right Now' had already formed the basis of a remix I had done previously. I'm not in a habit of doing that, but I figured screw it because they don't share much in common other than that and hey its my music so I'll do what I like! Prize to anyone who spots the track though! ;)
3) Production wise, what is it about 'Right Now' that makes it work?
Compared to my usual work it's actually a very simple track. It's mostly a beat and a simple bass line. The key is in the production and the arrangement.
I kept the mix quite spacious with nice ambience on the beat, which has a bouncy auto filtered conga pattern on it and this lets the bass come through. There are actually about three layers on the bass that modulate throughout the track.
The breakdown sections differ from the main groove with the vocal loop and so this provides a nice counter balance. I have a trademark high held note that keeps the tension and builds anticipation when the beat comes back in.
Btw. the screenshots are Logic Pro 9, but I've moved across more or less to Pro X since making the track around 6 months ago.
4) What is the one machine, program, sound, drum machine, technique that characterizes the signature the Shur I Kan sound?
None of them really, it's me that characterizes the Shur-i-kan sound not the equipment I use. It's not a deliberate thing. As much as I try to hide it my musical personality just ends up on the record. That can be a blessing or a curse! I guess its habits I fall into, or my background as a keyboard player who played lots of jazz in his youth.
Anyway I think you really want to get dirty and geeky – what do I use? Well it's mostly software based for a start. I use Logic – not because it's better than others, it's just the one I've got used to the most over the years. That's the most important thing with a DAW, how familiar you are with and how little it gets in the way of making music. I also use Ableton in rewire mode, just because its so freaking good for playing around with loops even compared to the new Logic Pro X.
I use a right mixture of plug-ins – the built in Logic ones, FXpansion Geist as a drum machine, NI Kontakt as a sampler – I've got a big collection of samples that I've built up over the years. UAD plugins for tape saturation, filters, and limiting mostly. I use the Sonalksis TBK filter and TBK3 distortion quite a lot too. I guess there is quite a lot of treating sounds to make them warmer and grungy.
5) What is the one piece of kit that Shur I Kan simply cannot do without?
Obviously it's the computer but that's such a boring answer. So I'm going to say my Fender Rhodes (an semi-acoustic-electric piano from the 70's) mostly for sentimental reasons. It's the first ever instrument I bought. I got it when I was at University off a bloke who was using it as a table for £90! It's travelled round with me, been lent and played by various talented keyboard players over the years, its back now refurbished and ready for action! There's nothing quite like a real Rhodes.
6) Any advice for your fans on how to make it in today's fast paced game?
First off what does having 'made it' mean? Does it mean having a piece of vinyl with your name on? Had your music heroes chart your tune? or you've been invited to DJ abroad? Can pay next month's bills from music? Own a luxury villa in Ibiza? Or is it a life's body of work you can be proud of? I'm not sure I consider myself as having made it – I'm still learning. There is always someone better than you out there, but there is only one of you so make what you do unique. Focus on what you love – your best work will come this way. Reach out to others who share your taste and it will happen organically and if it doesn't at least you would have had a blast in the process!
Oh yes and if you are going to send your music to a DJ like myself or a record label please follow these simple rules:
Always include a preview link (like on soundcloud). I'm not going to wait for it to download from yousendit (or whatever stupid name its called now) if I don't know you unless I'm in a really good mood that day.
Make the message personal and friendly, don't try to describe your music in abstract terms and don't send it to a mailing list you nicked off the internet with everyone cc'ed – that's instant death right there.
Don't be upset if you don't hear back, just send a polite reminder – it does work sometimes. Everyone's so busy these days (checking their Facebook)
Shur I Kan Follow Pages on Traxsource
Shur I Kan Latest Traxsource Top 10