Tony Blitz (C.R.S.T) - Inside The Track 'Vodka & Valium'
Summary by Local Talk
Local Talk is proud to welcome back Tony Blitz from C.R.S.T. – Remember Monster Munch EP back in January? T stands for Tony Blitz, the one and very same we got here. On the a-side we're treated to two slammin'€™ tracks, Vodka & Valium & Bring It Back are both the perfect mix between UK garage & house. Studio wizard Crackazat, last heard on our sub-label OneOffs, re-built the track into a piano driven house track infused with lot'€™s of melodies and gave us two versions. The dub is on the vinyl and as a digital bonus we included the vocal version.
With '' via landing on Traxsource. We sat down with from to get an indepth look 'Inside The Track' and more with this Exclusive interview.


The Interview
1) Congratulations on your new 'Vodka & Valium' release via Local Talk. How is it being received in your sets? & How are other club DJs responding to the release?
Nice one! Yea I'm happy to be on the Label, there's so much great stuff coming out on and to have my own stuff out on the label solo as Tony Blitz as well as under CRST is great. 'Bring it Back' was made a while ago so I have played that out a lot and it goes down well every time! The 'Vodka & Valium' track gets a great response; I think it's the vocal aided drop that works well. I'm getting some great feedback on the EP so far and having it on Local Talk has helped get it to the relevant DJs too. The response I'm getting from DJs is that they like the fact that there are a variety of styles on the EP, my influences coming from Garage and the remix from which has more of the house based elements. I F***ing love the remix!!
The Track
2 Tell us more about 'Vodka & Valium'. What was the main inspiration behind it and what prompted the musical direction on this?
Well when I started the track it begins like any other, just flicking through samples until I get inspired. I came a across a chord sample that sounded warm and used low frequency oscillation on the level to give the pad a bit of movement. I then added some other chord stabs that worked well with the long oscillating chord and it all stemmed from there.
NOTE

: Click the images for large versions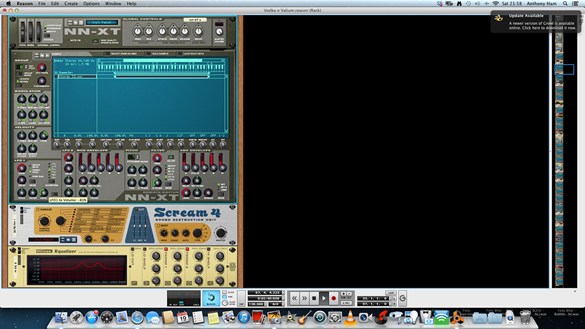 3) Production wise, what is it about 'Vodka & Valium' that makes it work?
I think its just the Vibe of the track, it has that feel good mood to it. There's nothing special in terms of production, in fact it's quite muddy in places but I think that's part of what makes it. I just focused on adding the right chord stabs to accompany the main pad in the track to give it more body and once I added the vocal, the track made its self really.
4) What is the one machine, program, sound, drum machine, technique that characterizes the signature the Tony Blitz sound?
I think it has to be the NNXT sampler in Reason. I've been a Reason user since Reason 1 and the NNXT has been my main tool since it was included in the Reason rack. I think its hard to say what it is that makes my music sound the way it does, I think its a mixture of how I pattern my drums and work with chord stabs and pads but I honestly try different ideas on every track. The main thing is getting the right vibe! When the track drops, I wanna see smiles or screw faces haha!
5) What is the one piece of kit that Tony Blitz simply cannot do without?
I think it would have to be my Adam a7 monitors. I'm so used to them that if I'm in another studio that doesn't use them, I find it difficult to work out what the true sound of the track is until I get it back to mine. Maybe I need to ween myself off them and buy some Beats by Dre headphones! Large white ones STANDARD! haha.
6) Any advice for your fans on how to make it in today's fast paced game?
Just make loads of music that you like, don't try and make stuff that you think everyone else is in to because if you don't really feel it, how can you expect anybody else to? Also, don't give up if things are not working out and if labels are not getting back to you. Stick at it and once you have something out on a decent label, people will be hitting you up all over the shop for a piece of the action.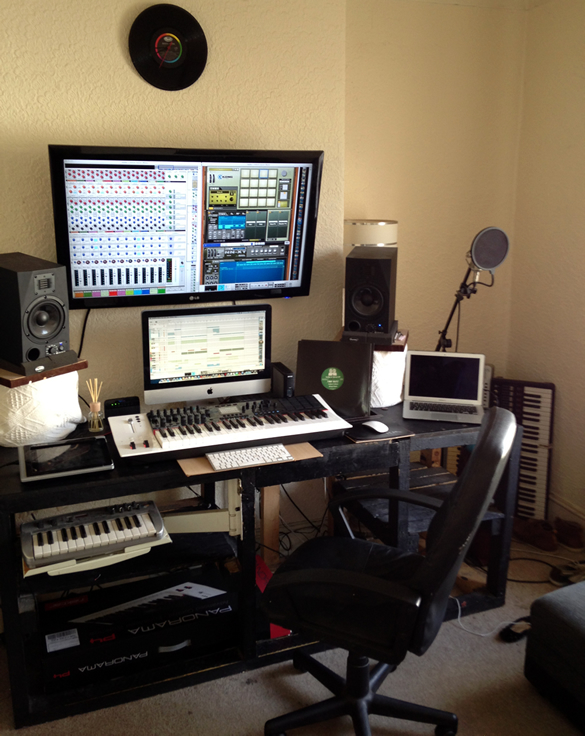 Tony Blitz (C.R.S.T) Follow Pages on Traxsource