Low Steppa - Inside The Track 'Listen Up'
Low Steppa needs little introduction. Since the early years of this millennium he's been producing some of the finest bass music around under various guises, whilst touring the globe and rocking some of the world's best parties – from EDC in Los Angeles to Womb in Tokyo.
His own imprint Simma Black Records is going from strength to strength, with Simma Black releases becoming a staple in many a DJs crate. And with his own Simma parties packing clubbers in, Low Steppa certainly is a busy guy!
With his latest release '' via riding high on both the & We sat down with to get an indepth look 'Inside The Track' and more with this Exclusive interview.
The Interview
1) Congratulations on the current success of 'Listen Up' from your EP via Grant Nelson's Freeze Dried label. It's certainly hitting a nerve with fans on Traxsource as its currently riding high on both our House and overall Top100 download charts right now.
Yeah I'm really happy with the release. Having the EP come out on Grant's Freeze Dried label is a big thing for me as I've followed his music for years. This along with the way it's selling is really exciting for me and it looks like a great start to the Low Steppa project. People seem to be digging the sound I've got going on and although there is a lot of this kind of vibe at the moment, I still feel like I'm kind of doing my own thing too so that feels really good as well.
The Track
2) Tell us more about "Listen Up". What was the main inspiration behind it and what prompted the musical direction?
I made 'Listen Up' a while back and I basically sat down wanting to make something
on a Garage vibe with organs and a big bass line. I've always been into the Garage from around 97 and also lots of soulful, deep house like Jon Cutler, Richard Earnshaw, Grant Nelson, Spirit Catcher, Jimpster etc. I wanted to try and fuse all that love into a track and 'Listen Up' was how that ended up. I make tracks for the dance floor so when I was making that track this is what I was thinking about, how it would work the floor. I was a DJ before I started to produce so I make tracks in a way that suits my style of DJing and what I think DJs and the people on the dance floor will enjoy. I think my sound sits between certain genres or styles but hopefully this is a good thing.
NOTE

: Click the images for large versions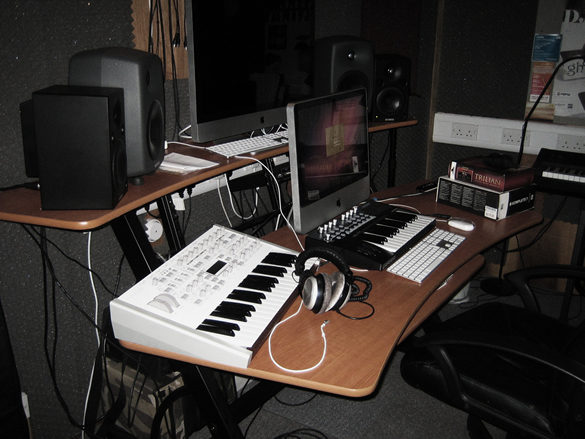 3) Production wise, what is it about "Listen Up" that makes it work?
As with a lot of my tracks I do try to give them an old school feel, as that's what I think appeals to people with the Low Steppa stuff. The track was meant to sound rough and ready and kind of gritty. I think the breakdown down and build works due to the snare roll and how the vocal comes in before the bass and drums kick back in, I think this makes it fun to play. It's a simple track but sometimes more often than not that works. The bass line is really simple but the groove of the drums carries it along. I don't do much to my bass lines, some widening which I do within Massive and some EQ usually with the channel strip EQ and a little bit of compression maybe.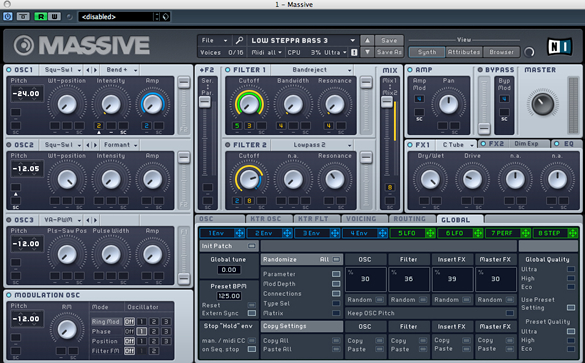 4) What is the one machine, program, sound, drum machine, technique that characterizes the signature Low Steppa sound?
I think there are a couple, I think the swing in my beats and the way I program them is recognizable and this particular track has the classic Low Steppa Bass vibe that a lot of my tracks have. I love making beats and dropping in the extra snares and hats to add that groove. I like the high strings, layering the organ with bass and opening certain notes in the bass synth to expand the sound and automate some delay or reverb with this too. I love to throw in record noise or crackle as well, not sure why really I guess I just don't want things to sound too clean.
5) What is the one piece of kit that Low Steppa simply cannot do without?
Well in terms of a sequencer its Cubase, I've used this for years now and its what I know and enjoy. Massive though is what I use a lot for a synth, am use to it, love the sound and I enjoy making new patches for it. I like to use equipment a lot and know them well, some people use different synths all the time but I like sticking to things and learn new techniques within a program or plug in. I think I get more done this way and the creativity flows better. I use Kontakt a lot for stabs and sometimes for bass samples or vocals. I love my Adam Sub8 to check the low end is not too much or too little. Getting the sub bass right can be really tricky so its important to be able to hear it well. I also check my tracks on Beyerdynamic headphones and I really rate the 880s. Maybe the most important thing is to drink lots of tea and coffee too and take regular breaks so you don't go insane!
6) Any advice for your fans on how to make it in today's fast paced game?
It's important to show respect and be real, make an effort and talk to people in the right way. There are so many negative and rude people in this game now. Work hard too and don't try and rush things. Learn a bit about where the music comes from and get out there and meet people and make music that you love. I've been in places before making music that I wasn't sure I vibed off but I love what I do now and cannot wait to get back in the studio every morning, am always excited to be making music. I also think these days you have to come with a certain amount of quantity too because music comes and goes so quick, every week a whole new bunch of tracks hit the stores and with so much music nowadays its harder than ever to stand out so regular releases are important.
Low Steppa Follow Pages on Traxsource