Fred Everything Studio Feature - Traxsource In The Studio
Canadian DJ/Producer Fred Everything is a key player in the world of House Music and with 15 years in the music business and over 150 productions to his credit, he shows no signs of stopping. Born in Hull and raised in Quebec City, Fred got the early bug for electronic music in High School. He formed a few bands while spending his weekends as one of the youngest in local nightclubs. In the early 90s, he started playing live in raves and clubs in Canada. He was then known as "Everything," because his live sets could range anywhere from techno to house, ambient and even drum and bass. He even got to open up for a then up and coming, Sasha. Tired of carrying his equipment around, mainly a TR909 and a SH101, he started DJ'ing and changed his name to Fred Everything. A move to the big city of Montreal was the next obvious thing, and it wasn't too long after that Fred found himself releasing records on some of his favorite labels and catching the attention of DJ's and producers worldwide.
---
What equipment do you have in your studio? (full studio kit list).
Studio Equipment
SOUND
Midas Venice F24 Mixing Desk
Neutrik Patch Bay (2)
Universal Audio Apollo Sound Card
Universal Audio 2192 AD/DA Converters + Word Clock
SYNTHS
Arp Solina String Ensemble
Dave Smith Instrument Prophet 08
Moog Voyager Electric Blue
Moog Sub Phatty
Korg Micro Korg
Korg MS-20 Mini
Korg Poly 800 (Slayer Mod)
Oberheim Matrix 1000 + Kiwi Technics Patch Editor
Nord Electro 2
Roland SH101 + SH09
Roland Juno 106
Yamaha DX-100
X0XB0X
DRUMS/SAMPLERS
Akai S612
MPC3000 + MPC1000
Roland TR-606 + TR-707
MINI MACHINES
Korg Monotron + Monotribe
Korg Volca Beats + Bass
FX/PROCESS
Eventide Time Factor + Space
Roland Space Echo RE-150
Boss RE-20 Space Echo Pedal
Electro Harmonix Deluxe Memory Man
Electro Harmonix Small Stone Phaser
Moogerfooger Low Pass Filter
Lexicon

MPX

-100
PRES/COMP
API

A2D Mic Pre
Avalon 737 Mic Pre/Comp
Empirical Lab Distressor EL-8x

FMR

Very Nice Compressor
MIC
AKG

Solid Tube Microphone
CONTROLLERS
Native Instruments Maschine
Akai APC40
MIDI/SYNC
Kenton Pro-Solo cv-gate
Korg

KMS

-30 Sync
Motu Midi Express XT
SPEAKERS
Auratones
Dynaudio BM5a
Focal

CMS

-50
HEADPHONES
AKG

K240
Beyer Dynamic DT-250
Phonon

SMB

-02
Senheiser HD25
COMPUTER/SOFTWARE
Apple Imac + MacBook Pro
Ipad (w Logic Controller)
Logic X
Ableton 9
Universal Audio

UAD

Plugins
Soundtoys
Pictures
NOTE: Click the images for large versions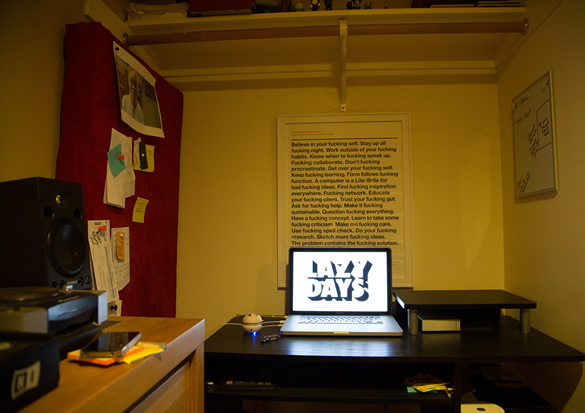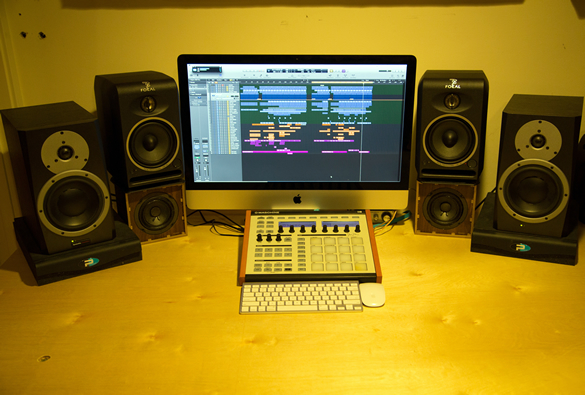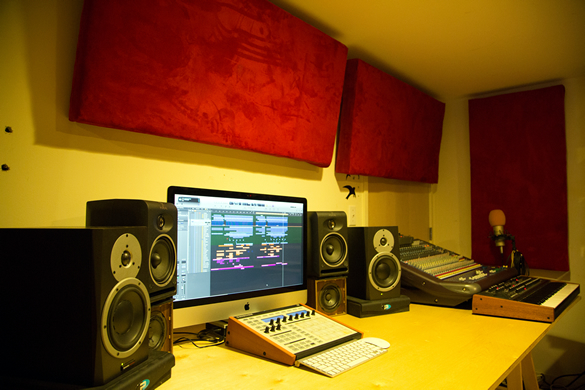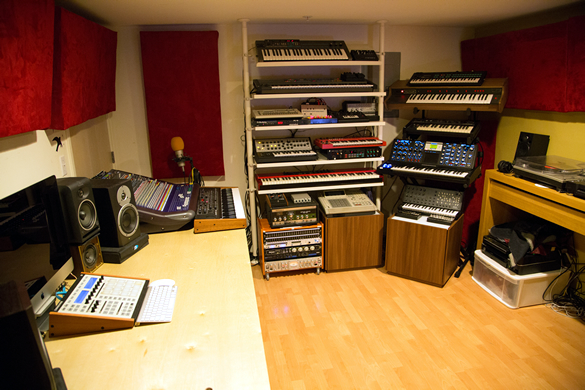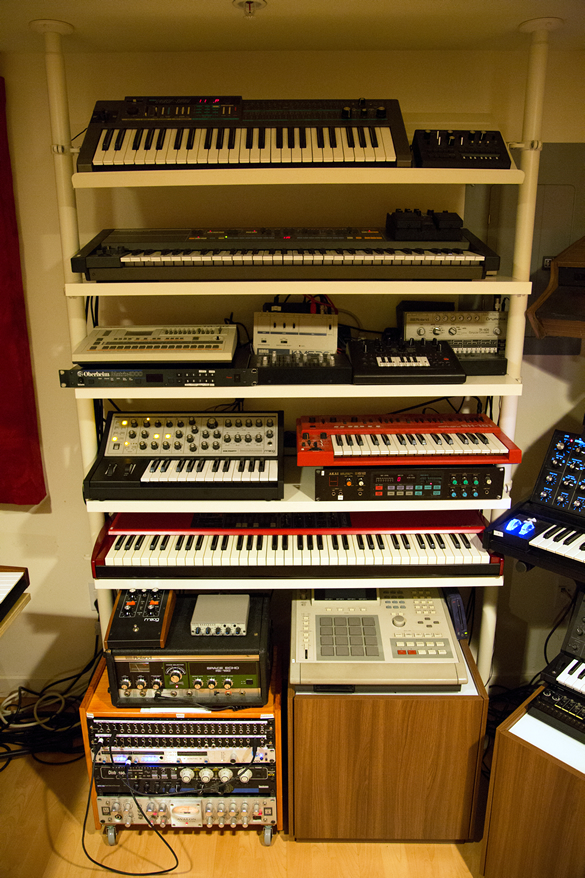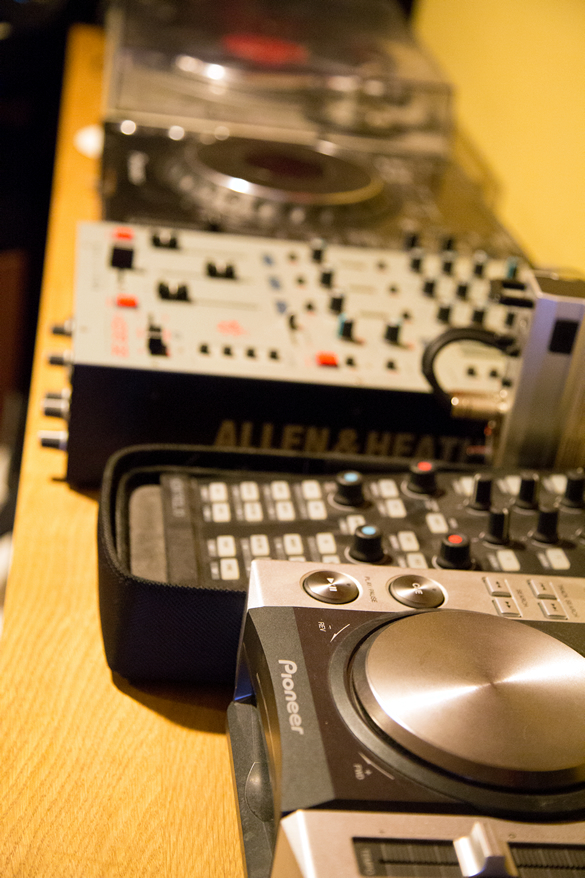 Fred Everything Interview
What is your favorite piece of equipment to use in the studio & why?
It's really hard to tell as it changes all the time. For Poly synths, my Prophet 08 and Oberheim also the Matrix 1000 are my go to keyboards. For Mono-Synths, my Moogs (Voyager & Sub Phatty). Most of my drums are done on Maschine but sometimes use the MPC-3000 or S-612 for more dirt.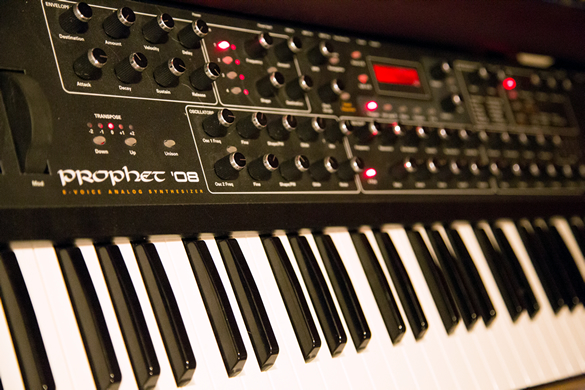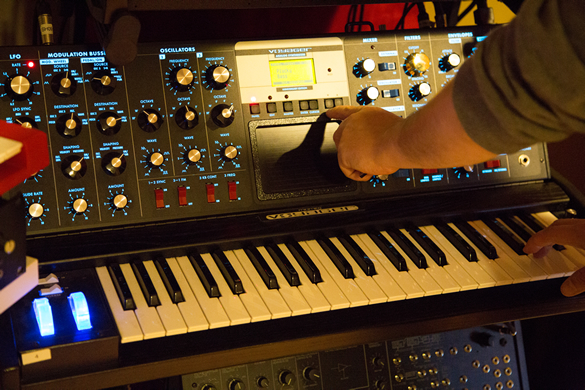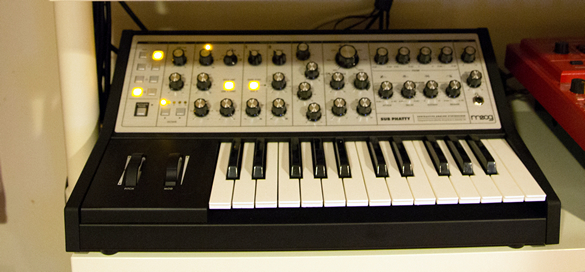 Give us some insight into your production process. How do you typically begin constructing a track?
It's different every time. A lot of people say they start with drums but lately, I've been trying to start with an idea/melody first and then build drums around it. People will always remember the song more than the drum track. I also experiment a lot with my synths and effects in the studio, I record a lot of parts and try to arrange them together then throw away the ones that are not needed. Experimentation is a big part of my creative process.
What piece of studio equipment or production process defines the Fred Everything sound?
I learned that what defines your sound is really you. No matter how many pieces of equipment you get, you can never run away from yourself. As I said earlier, I do use the Prophet 08 quite a lot, because I can dial in a sound from scratch and get some really nice textures.
What piece of hardware/software elevated your production to a higher level & how?
Again, it's all-relative but the one that gets me to destination the fastest, is my best friend. I would say that Maschine has improved my workflow a lot in the past few years. It's the best hardware/software integration I know. I've also always been a fan of UAD plugins, which are definitely a big part of my sound.
What fresh equipment have you recently added to the lab?
Too many! Moog Sub Phatty, Korg MS-20 mini, the new Volcas (beats and bass), the Apollo sound card, Eventide Space pedal and the main one has been a return to the Mixing Desk in the studio with the Midas Venice F24. It's a great and affordable board that allows a better workflow and use of my machines in the studio. It also has a Firewire interface so I can multitrack 24 channels in Logic. It's very handy when jamming live with multiple units.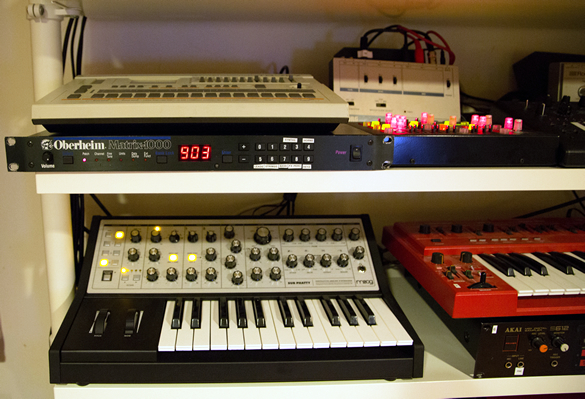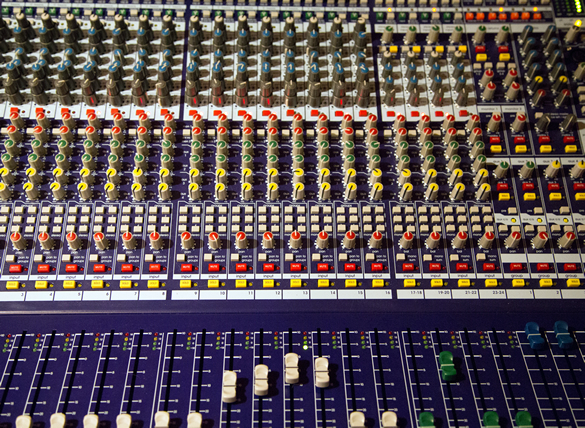 What are your essential studio supplies (food, drink, cigs etc)?
It would be red wine or maybe scotch at night but I work more during the day lately and trying to avoid the drinks on school nights! Since my studio is at home, there's the usual coffee and maybe some nuts during the afternoon. I'm a little more on the healthy side these days.
What list of artists have influenced your sound?
Quincy Jones, Nile Rodgers, Raphael Saadiq, , & (), , , Martin Hannett, Trevor Horn…too many to mention.
What are your 3 favourite productions?
Bran Van 3000 feat. Curtis Mayfield "Astounded" Fred Everything Remix
Fred Everything feat. N'Dea Davenport "Don't Nobody"

Fred Everything feat. Wayne Tennant "Mercyless" (AtJazz Remix)

What handy Fred Everything studio tip would you pass onto producers out there?
Pay attention to the details. A big track is made out of a lot of little things.
Listen to a lot of music.
Always listen to your own voice. Tell the world your own story…not someone else's
Master the technique so you can forget about it.
What new production should your fans be on the lookout for at Traxsource soon?
Obviously, my new EP out now on Lazy Days (Street Luv/Potrero). Remixes wise, I did a few for Bugsy & Christian Prommer feat. Jinadu (also on Lazy Days) as well as for Deux Tigres (Mood Music) and for Noir Music.
Fred Everything Latest Release
Fred Everything Follow Pages on Traxsource