A Lister - Inside The Track 'Problem'
SUMMARY BY LOVE NOT MONEY RECORDS
Next up on Love Not Money is an EP from hot property 'A Listers' (Alex Lister), a 24 year old House Producer from Bradford who initially featured on LNM earlier this year with a sterling remix of Ali Scott's 'Dream Machine'. Alex first caught the attention of House fans the world over when his debut release 'Your Soul' entered the Traxsource Top 20. Moving forward Alex has since had several Top 10's and a Deep House #1 spot under his belt, plus plays on Radio1, Kiss FM and Rinse. With this rate of consistency it's easy to see why his productions are fast becoming sought after, and why his name is becoming synonymous with good quality house music.
Now he lands back on the label with his own EP. The raw combination of prime time jacking grooves, heavy basslines, classic house sounds and the catchy vocal sample of lead track alongside the more laid-back, late-night style of the B-Side perfectly demonstrates why he's being held in such high regard by his peers.

The Interview
1) Congratulations on your new 'Problems / Truthful' EP release via Love Not Money Records. How is it being received in your sets? & How are other club DJs responding to the release?
Thanks! Yeah both tracks have been going down quite well; I've been playing them for months on and off. I usually get the other DJ's around me asking, "what this is?" and it's always nice to say "it's one of my latest". I think it's always good to road test tracks and see reactions before committing to sign them. Currently I don't want to just sign any old track to any old label, it needs to represent me, my sound and they have to work in my sets. Am very lucky to work with the label, Luke Pompey is a really top guy and loved both the tracks from the off. Shouts out to and also, who both have done great jobs on the remixes.
The Track
2) Tell us more about the main cut 'Problems'. What was the main inspiration behind it and what prompted the musical direction on this?
The ethos of the track was to produce something similar to what I had been doing last year, lately I've been quite doing bassline driven tracks and I wanted to make something more chord driven with more of a tough 90's garage feel and vary my sound. So I opened up one of my old projects which I love the drums from, slightly tweaked them and worked from there. Usually I'd replace all the drums as I go along but they worked so well with the track I kept them. The chord stab is from Native Instruments Massive VSTi and I knew instantly as soon as I came across this sound that I could make a solid riff from it, After 5 minutes of messing around on the keyboard I'd written the riff and pretty much half a track done in less than an hour.
NOTE

: Click the images for large versions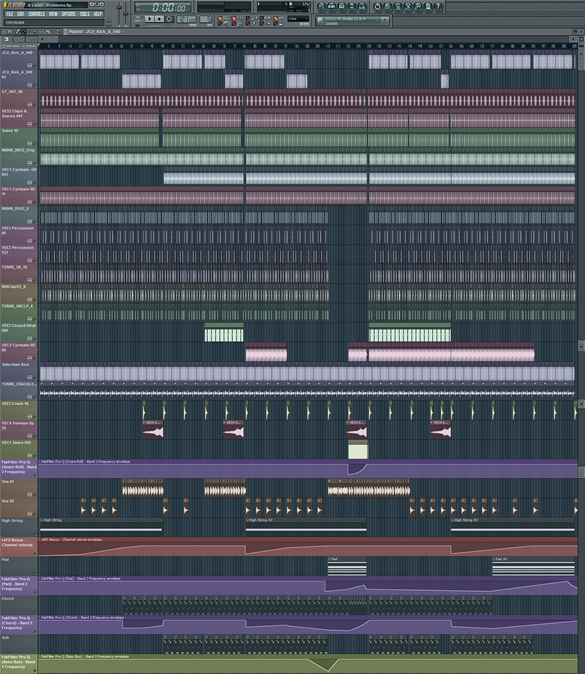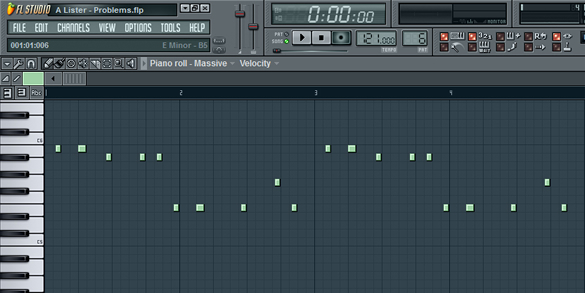 3) Production wise, what is it about 'Problems' that makes it work?
It's actually a very simple track in terms of production. There's not that much going on, just drums, a vocal, a chord stab, sub bass, high string and a pad. The key to the track lies within the mixdown, especially the sub bass, which really thumps through and drives the track, and the drums which are quite tough and swingy. It's a dancefloor-orientated record more than anything, as the old saying goes 'sometimes less is more'.
4) What is the one machine, program, sound, drum machine, technique that characterizes the signature the A Lister sound?
Probably the way I programme my drums. I do it all manually as audio, no drum machines or controllers etc. I try to get a really good swing and groove in them to keep them flowing. I spend quite a lot of time carefully picking out samples that complement each other and arranging them to fit individually with every track I do. To me, drums are the most important part of any tune, most producers would argue that your bassline drives your tune but I believe it all lies in the groove, you could have the world's best riffs but if you're drums are lacking, it's going to show in the whole track and massively bring down production level. It amazes me that one simple sample change can change the entirety of your track! I don't really do much to my drums in terms of plugins, there's zero compression or anything like a Vintage Warmer or Saturator etc. One plugin I use extensively though is the FabFilter Pro-Q for EQ'in, I've not found a better EQ than that thus far!
5) What is the one piece of kit that A Lister simply cannot do without?
My DAW, FL Studio 9. I've used it a number of years and I love the simplicity of it. It's so easy to lay out drums, automation and I know it pretty much like the back of my hand now. Gear wise my setup is very basic but I couldn't survive without my Novation 49SL MKII Midi Keyboard. I'm not a keyboard player by any means and I don't know that much when it comes to the theory side (I'm much more of a technical producer), but it's great to have a mess about and just play what comes naturally rather than looking at a screen moving notes up and down. It gives you so much more freedom. About 90% of my basslines come from me playing about on the keyboard and getting a feel for the music.
6) Any advice for your fans on how to make it in today's fast paced game?
Any kind of success in music doesn't come over night; you have to practice and practice! You don't have to dedicate your life to it by any means, but you only get out of it what you put in. My best advice would be don't think about "making it", just have fun what you're doing. Although music is a business it's also about expressing yourself and being creative. Try to craft out a sound for yourself, trends change all the time, but if you're true to yourself and your sound then it will hugely reflect in your productions. Personally I put my all into my productions; I only make what I enjoy and what I can play out during my sets. There's nothing worse than not being able to play what you've made. Also don't worry about past projects; I've done it myself where I've thought "I've made a great tune, now how do I make my next tune even better than that". You can start to stress over minor details and spend too much unnecessary time worrying if other people will like the track or not, when in actuality the only person who's opinion matters is your own. It's worth jotting down the names of your favourite artists and the labels they release on to find out which suits your sound. As great as it is to get your music out there, it's so much more rewarding to do it on labels that mean a little something to yourself.
A Lister Follow Page & Releases on Traxsource