Charles Webster - Inside The Track 'Don't Forget Me'
With 'Don't Forget Me' via Miso high on the Afro House Top 10. We sat down with Charles Webster to get an indepth look 'Inside The Track' and more with this Exclusive interview.

The Interview
1) Congratulations on your new 'Don't Forget Me' release. How is it being received in your sets? & How are other club DJs responding to the release?.
I was in South Africa when the record came out and I have played all 3 of my mixes in sets so far and …luckily they all went down very well….on big sound systems in stadium type gigs the bass sounds amazing…very heavy …and the distorted vocal parts in my remix sound really nice…quite an ominous vibe to that mix…and I saw Rocco play his mix at a gig down there last week…sounded very nice too.
I know DJ Black Coffee has been playing it on the radio down there often so I'm sure lot's of folks will be supporting the track and all the mixes over the 2 separate releases (Miso and Soul Candi).
The Track
2) Tell us more about 'Don't Forget Me'. What was the main inspiration behind it and what prompted the musical direction on this?
The original track was done internationally via the internet with myself, kid fonque and khensey all providing input online. This type of thing is happening more and more these days with the advent of affordable high speed internet, its makes collaborating with someone without being in the same room music easier now. As for musical direction it just flowed, once I had the vibe for the music it was easy. The track is quite simple and musically the original is built around Khensy's lovely vocal delivery. My remix and dub mix take different directions, I think my 3 mixes all appeal in different ways.
NOTE

: Click the images for large versions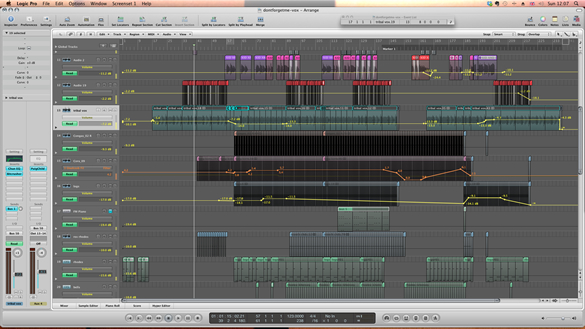 3) Production wise, what is it about 'Don't Forget Me' that makes it work?
I think the vibe of the track is warm and emotive, a lot of this comes from the vocal. All the sounds are very organic and soft, the Rhodes, the low tuned bass drum and the Kora sequence. All these gentle sounds add up to a rich and emotive backing for Khensy's delicate, yes powerful vocal delivery.
4) What is the one machine, program, sound, drum machine, technique that characterizes the signature the Charles Webster sound?
This record was the last one I made with Logic 9 (see screenshots) and I have upgraded now to Logic X. Logic has been a part of my musical life since it was called Notator! Logic is a great piece of software, does everything very well, audio, midi and softsynths.
I use NI Maschine also these days (as a plugin within logic….see screenshots) and Melodyne (screenshot 1) is my new favorite piece of software, it can be used for much more than just time stretching and/or tuning. It's a really creative piece of software.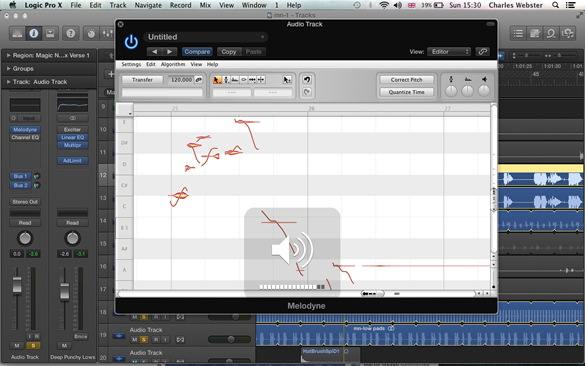 I think my favorite piece of equipment is my Fender Rhodes electric piano, it doesn't actually feature very much on this record but all the keyboard parts are worked out on it, This is such a rich and powerful sound from such a simple instrument. I often play parts and record or sample them so in the end they are unrecognizable as an electric piano (see pic).
5) What is the one piece of kit that Charles Webster simply cannot do without?
I think it would have to be the Fender Rhodes piano, as I mentioned before, it doesn't appear on every record I make but it is always used in getting too the finish line on a track. Its such an inspiring sound. There are many sampled versions and digital emulations of a Fender Rhodes, but (in my humble opinion) non of them even come close to the real thing.
I do use lot's of outboard instruments on my records, I have a few Juno's…an ATC-1x (early rack mounted Mini Moog clone), an Alesis Andromeda A6 etc so I do try and use a lot of real analogue sounds in my music and try not to rely on plugins so much.
6) Any advice for your fans on how to make it in today's fast paced game?
My only advice to anyone wishing to make music or have a career in music is to just be yourself and try not to copy other people's sound. You are unique, make your music unique!
Charles Webster Follow Pages & Releases on Traxsource